Former NFL defensive back Wade Davis told the world he is a gay man years after he left professional football.
Drawing from his own experience, Davis spent the past few days counseling the University of Missouri's Michael Sam before the defensive end announced Sunday via The New York Times and ESPN that he is gay and plans to become the first openly gay player in NFL history.
"There's just so much more visibility for LGBT individuals," Davis said. "You'll see them on TV. There are so many players now who have openly gay family members, whether they're brothers, sisters, aunts or cousins. I think that the world's just very different now, so the conversations that weren't being had when I was playing are being had now."
Davis said when he was playing football, the locker room was the place he felt comfortable.
"Playing the game of football was actually one of the safest places for me to be," he said. "When I was with my teammates or my friends, I was good there. But when I was in my own silence, that was really when I was kind of at my worst."
"I guarantee it will (welcome him)," Davis said. "All locker rooms have one kind of identity: 'I can mess with you, but no one else can.' And I'm sure that his teammates will say, 'This guy can play.' Michael is a football player through and through. It speaks to the idea that his team that played in the SEC loved him, embraced him.
"He was a team leader -- so I don't think that he'll have a problem in the NFL, either. The SEC is probably like the minor leagues of the NFL, so if he could survive there, do an amazing job there and be accepted there, the NFL will be no different."
Davis said one reason Sam decided to come out before to the NFL Scouting Combine was to get the media frenzy out of the way so he can concentrate on football.
'Jerry Smith: A Football Life'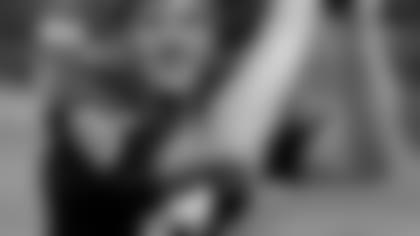 The life of gay Redskins tight end Jerry Smith will be chronicled when the special re-airs Wednesday at 9 p.m. and 12 a.m. ET.
"Michael Sam is one of the most confident guys I've ever met," Davis said. "He understood the gravity of this moment, but he definitely wasn't overwhelmed by it. His main focus was, 'How can I get this hoopla out of the way so I can start training?'"
Davis believes Sam's announcement is a positive step for other gay athletes.
"Whenever you have someone kind of living their own truths, it changes the world for the better," Davis said. "I can't say whether or not it'll start having other players to come out, but I think his visibility is transformative in itself."
In the latest "Around The League Podcast," the guys ponder the future in both Seattle and Denver and break down the teams who intrigue them most this offseason.