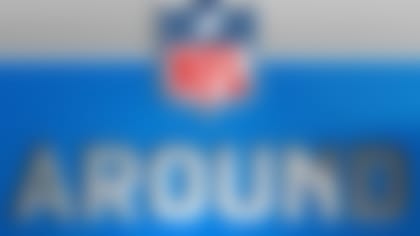 The Around The League team hits all the NFL's hottest topics in its award-winning podcast. Join the conversation. Listen
"I've got a chip on my shoulder," Zimmer said. "I want to make sure that 31 other teams know that I'm here and I'm ready to coach this football team."
Zimmer had been passed up for other coaching jobs for many years. He dismissed the notion that he's a blunt coach, passing the perception off as a byproduct of how he was portrayed on HBO's television series "Hard Knocks."
Zimmer said he wants a "tough" and "physical" team. He said the Vikings have a lot of good, young talent to work with.
"When you go play the Minnesota Vikings, you're going to have a full day's work ahead of you," he said.
Here are a few other notes from Zimmer's news conference Friday:
»He refrained from discussing his quarterback situation in detail. "We're going to do our very best to have the best quarterback in this division," he said. (Aaron Rodgers, Matthew Stafford and Jay Cutler currently are the three other quarterbacks in the NFC North.)
»Zimmer said he can play either a 3-4 or 4-3 defense depending on personnel, but that he will have a hand in the scheme and game planning on the defensive side of the ball.
"I plan on it being very similar to what I've done in Cincinnati," he said. "It's always going to be part of my little baby, because that's kind of who I am and what got me here. So that'll always be a big part of me."
»On his coaching staff: "We're still working on the staff situations on everything right now. We're going to announce the entire staff at a later time when we get them all finished."
»On his ultimate goal as Vikings coach: "Honestly, I can't wait to stand on the podium with Zygi and Mark and Jonathan, and we're standing on the podium, and we look up and the confetti is falling down on top of us, and we're all hand in hand, and Commissioner Goodell comes over and hands the Super Bowl trophy to Mr. Wilf and tells him he's world champion. That is my goal and that is my drive."