A cursory search of the Internet is bound to turn up Chris Kluwe's opinion on something. Wednesday gave us the Minnesota Vikings punter's take on replacement officials.
Instant Debate: Replacement refs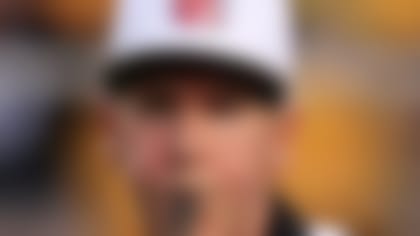 Will replacement officials be a problem in Week 1? Our analysts provide varied viewpoints on this critical topic. **More ...**
"The replacement refs are bad. There's no way around it. None!" Kluwe wrote to Deadspin editor Tommy Craggs. "Whether it's the pressure of live television on the sport's largest stage, or just an inability to do the job, these guys are making football increasingly painful to watch as a player, and I'm certain it's just as frustrating for the fans. It's like watching a Lamborghini roll around on eight-inch spare tires. Not good."
» "It seems as if, after every call, all 35 refs come sprinting in to discuss the merits of Kafka's '(The) Metamorphosis' as it relates to the economy of Bangladesh, and just when you think they've finally figured it out, they reconvene for Round 2. Then Round 3."
» "I am slightly curious how the TV networks are going to handle eight-hour games. I bet we get cut for 'Heidi.'"
» "I haven't personally seen it, but I've heard of coaches berating the replacement refs in other games and getting penalty flags picked up. I'm sure that won't be a problem in a real game, though. I can't picture Belichick or Harbaugh losing his (mind) at a ref if he thought it would give his team a tactical advantage. Totally out of character."
» "They missed a call so badly that the replay official called down from the booth and made them review the play so they could assess a penalty. That's not really allowed in the rulebook, but I guess we're just winging it, at this point."
» "We walked out for a punt, and my long snapper didn't feel like going over to the other hash. What did he do? He told the ref, "No, you have the ball in the wrong place. Move it over here." And what did the ref do? HE MOVED THE BALL. No! Bad ref!"
Replacement officials will debut in games that count when the Dallas Cowboys meet the New York Giants on Wednesday night. No talks are scheduled betweeen the NFL and locked-out officials at this time. Buckle up.