Each week, Dan Hanzus sifts through the pro football landscape to bring you sublime subplots of NFL life. Some of it he loves. Some he does not. Other stuff, he can't quite decide. The ATL Buzz Report.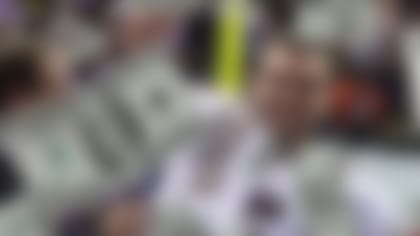 1. No regular Joe
2. Ed & Oscar
I watched the Oscars red-carpet scene from over Ed Reed's left shoulder. I'd like to follow him everywhere as he continues his eternal search for Nia Long.
3. Say goodbye, Randy
We love Randy Moss as much as anybody, but we hope we don't see him again in an NFL uniform. He's officially in the Fat Elvis stage of a tremendous career.
4. Measuring Megatron
5. Playing mind games
Oklahoma OL Lane Johnson said the Bengals tested his memory during the "weirdest" combine interview ever. Any theories how this helps protect Andy Dalton?
6. You serious, Clark?
7. Nnamdi's "me time"
There's something profoundly sad about Nnamdi Asomugha eating his lunch alone in his Range Rover. Life is like the schoolyard in so many different ways.
8. Sick of Suggs