Football came back to us in earnest on Sunday, a showcase of God-like strength and eye-popping athleticism from some of America's greatest athletes.
There was other stuff, too. We like the other stuff. Here are the top five bloopers from Sunday's games:
5. Rob Gronkowkski obviously didn't work on post-TD celebrations during the Summer of Gronk.
3.Cortland Finnegan and Stephen Tulloch are friends. Replacement referee Shannon Eastin didn't know this. When she attempted to break up what appeared to be a fight between the two after Sunday's Rams-Lions tilt, she was in for a surprise.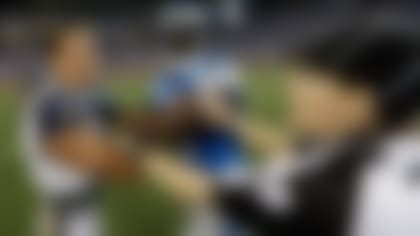 2. This route and catch is a perfect example of why Vernon Davis is one of the game's finest tight ends. This goal post dunk attempt is the reason why he should stick to layups.
1. I tried to tell ATL Browns booster Marc Sessler not to read into this too much. Any franchise quarterback can be overwhelmed by a standard on-field flag display. There's nothing forboding about this at all. Right?