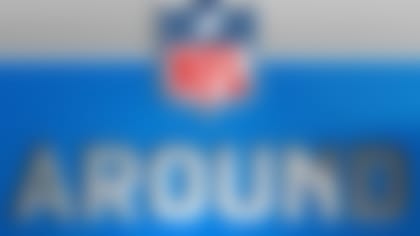 The Around The League team hits all the NFL's hottest topics in its award-winning podcast. Join the conversation. Listen
CBS Sports announced Tuesday that Gonzalez has been hired as an analyst for "The NFL Today" pregame show.
"Having just stepped off the playing field, Tony brings a fresh and insightful perspective," CBS Sports chairman Sean McManus said. "As a future Hall of Famer, we are excited for him to share his knowledge, experiences and opinions with our viewers. Tony was one of the most respected and hardworking players in the NFL and a tremendous teammate. We look forward to him bringing these attributes to CBS Sports."
Disappointed in their failure to make up ratings ground on rival Fox, CBS Sports has parted ways with Dan Marino and Shannon Sharpe. The two Hall of Famers have combined for 22 years as CBS analysts.
The cast of "The NFL Today" now will be comprised of Gonzalez, James Brown, Boomer Esiason and Bill Cowher.
We applaud CBS' decision to shake things up. It was long overdue on a pregame show that had spiraled into an unending loop of staleness years ago.