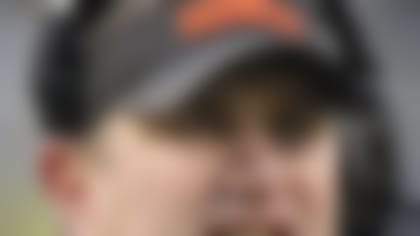 Who has joined ex- Browns coach Rob Chudzinski on the firing line and who's safe? We track the latest news. **More ...**
Coughlin confirmed he had meetings scheduled this week with management and ownership. Until that happens, there will be no official declaration about Coughlin's status following a season in which the Giants finished 7-9. But Coughlin made it clear that he wants to be back.
"Everybody wants to know what's next for me. I hope it's coaching the New York Giants," Coughlin said.
Way back in October, a high-ranking Giants source told NFL Media Insider Ian Rapoport that Coughlin will have the opportunity to decide his own fate at the end of the season. There's no reason to think that stance changed after the Giants went 7-3 down the stretch to put some lipstick on a piggish season.
Giants general manager Jerry Reese, speaking to the media Monday, would not say definitively just yet that Coughlin would be back. Reese said everyone in the organization will meet this week. Owner John Mara said changes will be made, but the team has told Coughlin they want him back. They just have to work out a contract. 
Coughlin last signed a short contract extension in 2012. Mara indicated the team will discuss potential staff changes with Coughlin later in the week. Offensive coordinator Kevin Gilbride has come under fire after a terrible year for Eli Manning and friends. Mara indicated that former Giants quarterbacks coach Mike Sullivan, recently fired in Tampa, could be a candidate to rejoin the Giants' staff.
It's clear Coughlin won't retire on a losing note. It remains to be seen what coaches are around next year to help him try to rebound.