The New York Jets held their annual conference call with season-ticket holders on Monday. We wouldn't call it hugely informative, but it did provide entertainment value. We'll take it.
» Ryan again stated there is no validity to the Revis trade rumors: "There was no truth to that." Idzik said Revis is ahead of schedule in rehab and says their focus is on getting the cornerback healthy.
» Idzik gave a hazy answer about the future of Tebow: "He's currently on our roster. We're trying to increase competition at that position." He later added: "We're going to let that competition play out." Strange.
» Ryan said he did not anticipate the Jets appearing on "Hard Knocks" this summer. That's a heartbreaker.
» A Spanish-speaking caller told Ryan he reads his 2011 memoir, "Play Like You Mean It" to learn English. This is fascinating on about 10 different levels.
Debate: The race to Revis Island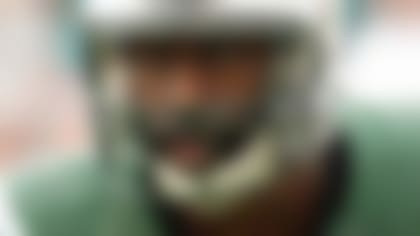 Darrelle Revis trade talk is all the rage right now. Which team should make a run at Revis and what price should it pay? Let's debate! **More ...**
» Idzik said the R-word, but he doesn't see it as a bad thing: "There's a negative connotation with rebuilding, but every team retools or rebuilds to a certain extent. That said, we have a fine foundation here."
» A caller prefaced a question by saying, "We are the butt/butt fumble joke of the NFL." Expect this to be the last season-ticket conference call for the Jets.
» Ryan responded to a question about being an NFL laughingstock with a double-down, replying that the Jets are a team free agents flock to: "You'll be surprised how many guys want to come here. The New York Jets are team that many players want to play for, if not all." Oh, brother.
Though we're sure some people will make something of it, don't read too much into the Tebow comments. He's a goner. Consider it a rookie GM mistake to crack the door open even a bit.