FLORHAM PARK, N.J. -- Tim Tebow hopes he's healthy enough for a happy homecoming.
The New York Jets' backup quarterback is still recovering from two broken ribs that have kept him out of the last two games. The team is playing Tebow's hometown Jaguars in Jacksonville on Sunday -- the first time he'll play there are a pro since his rookie season with the Denver Broncos in 2010.
Mark Sanchez's struggles have put the Jets in a QB pickle that they should've seen coming, Jeff Darlington says. **More ...**
"I have a lot of family and friends who will be there," Tebow said Wednesday. "Jacksonville will always be a special place to me. It's where I grew up and where a lot of my family still calls home. It will be a lot of fun."
Whether it's from the field or the sideline remains uncertain. Tebow was limited again at practice Wednesday, but he said he was able to throw passes at full force for the first time in a few weeks.
"It's getting close," he said. "It's getting a lot closer."
Tebow was injured Nov. 11 at Seattle and played three offensive snaps the following week at St. Louis. He was active, but Rex Ryan kept Tebow on the sideline -- to be used only in "an emergency" -- against the New England Patriots after the quarterback convinced the coach he could play following a pregame evaluation.
Despite being medically cleared, Tebow was inactive last Sunday against the Arizona Cardinals because he still wasn't completely healed.
Instant Debate: Marked man?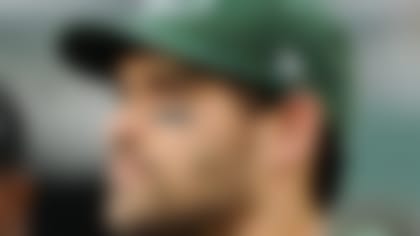 After another poor outing from Mark Sanchez, is it time for the Jets to opt for Tim Tebow or Greg McElroy? Let's debate! **More ...**
"I just try to do what the trainers and doctors say and what the coach asks me to do," he said. "That's all I can control."
Tebow had X-rays taken Sunday that showed "some healing, but still fractures," and will have a new set taken later in the week to make sure things are progressing.
"It's not 100 percent," he said, "but I can still throw OK."
If cleared by doctors and made active by Ryan, Tebow will be the backup to Mark Sanchez, whom Ryan announced Wednesday would remain the starter. After Sanchez struggled and was benched in favor of third-stringer Greg McElroy in the Jets' 7-6 win over the Cardinals last Sunday, Ryan took a few days to make his decision.
Copyright 2012 by The Associated Press