Debate: QB controversy... to playoffs?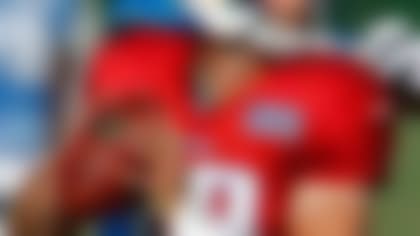 Four teams have notable QB battles taking place right now. Which one has the best shot at the playoffs? Let's debate! **More ...**
Pete Carroll loves himself a reclamation project, but Owens is guaranteed nothing. If anything, the 38-year-old veteran might have to find a way to leapfrog other receivers on the roster.
Can he do that? Let's take a look, breaking down Seattle wideouts into three groups.
Rice is being brought along slowly after offseason shoulder surgeries and is just one year into a fat free-agent contract. Baldwin was the Seahawks leading receiver last season (788 yards, four TDs) and is a good fit for the slot. Seattle hopes this is the season Tate emerges as a consistent playmaker.
Obomanu has the strongest résumé here, finishing last season with 436 yards and two touchdowns. Lockette has put himself on the radar with a strong start to training camp. Durham is a project, a fourth-round draft pick in 2011 who has both size (6-foot-6, 216 pounds) and versatility.
Terrell Owens, Braylon Edwards
Though lights-out training camps could allow both to make the team, we'd be surprised if both Owens and Edwards are in uniform by Week 1. Neither play special teams, so they'll have to make up for that lack of versatility by showing off their playmaking skills of yesteryear. Our money's on Edwards, but perhaps it's time to get out of the business of writing off T.O.