JERSEY CITY, N.J. -- Our instructions for Super Bowl XLVIII coverage this week were simple: Make it interesting. Be the coverage you would want to read.
To that end, one of my priorities has been to crack the mysterious case of a Denver Broncos defense that has actually improved since losing All-Pro linebacker Von Miller to a season-ending knee injury.
It starts with defensive tackle Terrance "Pot Roast" Knighton, who has played the best ball of his career over the past six weeks. I asked defensive line coach Jay Rodgers how the prototypical run plugger has suddenly developed into a fearsome pass rusher.
"He's an athlete. He may have a mass to him, but he's got hands. He's got feet," Rodgers said. "I guarantee you he could probably dunk a basketball back in his day. The guy played wide receiver when he was in high school. I mean, he's just an athlete. That's just his natural god-given ability."
"Especially the last few weeks, Terrance has really stepped it up, not only with his play but with his leadership," Rodgers continued. "He is in the prime of his career, and I think we're going to get a bunch of good years here."
Linebackers coach Richard Smith credits a new linebacker rotation for the team's improved run defense of late.
"What we've done and it's really helped our football team is there's only one guy in our group who plays every down and that's Danny Trevathan," Smith explained. "The other guys play about 20-25 snaps a game. So that's awesome. It allows them to play so hard and fast on a consistent basis, rather than play 60 plays. It's helped us keep guys fresh for the long haul."
"If you look at film of him, then you know him because he's a really good player," Smith said. "What he's done is a great job of developing his body over a year ... He's a very, very, very instinctive football player. That's where he makes his plays. He has all instincts you look for and besides that he's a tough guy. He's a guy that will battle, and it means a lot to him. He's had a tremendous year."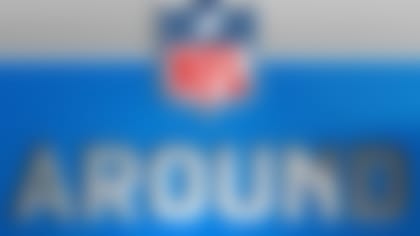 The light seems to have flipped on for 2011 third-round pick Nate Irving, who has more than held his own on early downs since replacing Miller at strong-side linebacker.
"I'm so happy for Nate. He's done a great job in the run game and in coverage," Smith said. "He's had a great few weeks here ... I've really been pleased with him."
Secondary coach Cory Undlin believes the Broncos' disappointing defensive stats are at least partially attributable to playing with a record-setting offense.
"You end up playing a different style of football," Undlin said. "We don't go to a prevent (defense), but more balls are going to be up in the air. When you're up by 21 or 14, it ends up being a 7-on-7 tournament sometimes."