Gleason: My life is awesome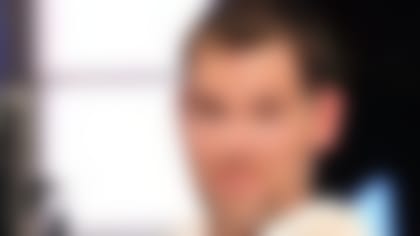 Steve Gleason discussed if he has any regrets playing football in a guest column on SI.com. **More ...**
In the "Mayhem in the AM" segment, "Gleason" called in to the show on a supposed media tour. In a short, senseless, deeply unfunny few minutes, someone pretended to be Gleason talking through a computer, telling knock-knock jokes.
Some of the supposed jokes:
The three fired hosts were Nick Cellini, Steak Shapiro and Chris Dimino. At least one of the hosts seemingly started to realize it was a bad idea halfway through, but no one stopped it. Sometimes in life you have a few seconds to make the right move, and everyone involved here -- from the hosts to the producer -- fell short in a very public way. Those few minutes changed the lives of everyone involved.
Gleason did not respond Monday with a public statement. But Clare Durrett, the executive director of Team Gleason, did speak with The Times-Picayune.
"At this time, we don't feel the need to issue a statement as it just takes time away from the important things Steve and Team Gleason are doing," Durrett said. "Currently, Steve is enjoying a much needed vacation in the Northwest and spending time with friends and family. He is having an extraordinary day so far, having been the guest writer for Peter King's Monday Morning Quarterback and is now interviewing Pearl Jam.
"Following up the rest of the day, Steve will be with Michel and son Rivers enjoying the lakes and mountains that surround them, which is far more important than addressing a talk show that has no relevance to his efforts."
UPDATES: The Atlanta Falcons released the following statement Monday night: "The Atlanta Falcons are disappointed in the comments made about former Saints player Steve Gleason on a local Atlanta radio station Monday morning. The content concerning Mr. Gleason was completely inappropriate and is not representative of the views of the Falcons organization, nor does it represent the way we conduct our business on and off the field. To single out Steve the way he was this morning is totally lacking in taste and discretion."