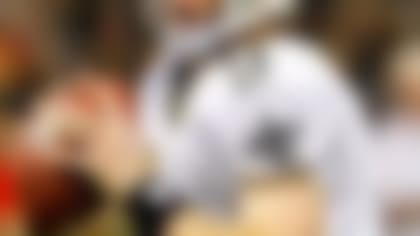 Drew Brees stands to break Johnny Unitas' record of consecutive games with a TD. Pro Football HOF breaks down the QB's streak. More ...
All three suspended members of the Saints could be in attendance at the Superdome for Brees' possible record-setting game, according to an NFL statement obtained by NFL Network and NFL.com's Albert Breer. WVUE-TV first reported the news.
Brees requested their presence as he attempts to break Johnny Unitas' NFL record of 47 consecutive games with a touchdown pass.
"Drew Brees requested permission for Sean Payton, Mickey Loomis and Joe Vitt to attend Sunday night's game in which Drew will attempt to set the record of 48 straight games with a touchdown pass. Commissioner (Roger) Goodell has granted that permission," the statement read. "Coaches Payton and Vitt and Mickey Loomis will be permitted to watch the game in a private area of the stadium and will have no contact with the team."
Payton, Vitt and Loomis are being allowed to attend the game on a one-time basis because of special circumstances, an NFL spokesperson told NFL.com and NFL Network's Steve Wyche.
Seating arrangements are being worked out with the Saints, Wyche reported, adding there are not specifics if the trio can or will be seated together.
New Orleans is 0-4 and in serious trouble, Albert Breer writes. Can Drew Brees and Co. turn things around? More ...
When asked Tuesday, Payton said he would not attend the game, the Times-Picayune reported.
"No, no," said Payton, who was suspended for the season because of the Saints' bounty scandal. "I've kind of got a full plate here. A handful of people texted me that. Right now, I'll be able to watch it, and shoot, just being able to watch it on TV is no different than being there in person. It's just an honor to be connected to this."