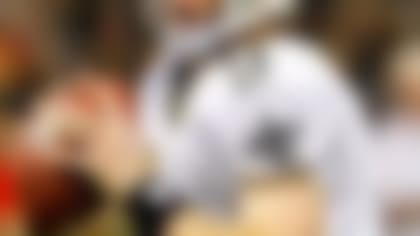 Drew Brees stands to break Johnny Unitas' record of consecutive games with a TD. Pro Football HOF breaks down the QB's streak. More ...
So will Payton consider asking for a chance to watch quarterback Drew Brees on Sunday when Brees is set to break Johnny Unitas' record for most consecutive games with a touchdown. Despite a report Brees was thinking of asking, it's not going to happen.
"No, no," Payton told Larry Holder of the New Orleans Times-Picayune when asked about his possible attendance. "I've kind of got a full plate here. A handful of people texted me that. Right now, I'll be able to watch it, and shoot, just being able to watch it on TV is no different than being there in person. It's just an honor to be connected to this."
The luster has worn off Brees' potential record-setting day because of New Orleans' 0-4 record. Everyone involved from Brees to Payton would surely trade in the touchdown streak breaking in order to end the Saints' losing streak.