WHITE SULPHUR SPRINGS, W.Va. -- New Orleans Saints coach Sean Payton is moonlighting this week as Ryan Palmer's caddie at the Greenbrier Classic.
With the start of NFL training camp later this month, Payton said he was planning to spend a week relaxing at The Greenbrier resort in West Virginia. One thing led to another, and Payton ended up agreeing to help Palmer, who gave his regular PGA Tour caddie the week off.
Instant Debate: Best play-caller?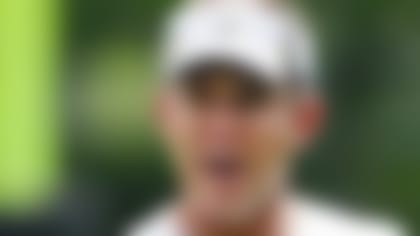 Who is the top play-caller in the NFL today? Our analysts praise New Orleans Saints head coach Sean Payton, among others. **More ...**
"It's pretty cool to hear the mindset of one of the great coaches in the game, Super Bowl-winning coach," Palmer said.
After two days of participating in practice rounds and pro-am events, Payton said Wednesday he realized "this isn't a vacation."
Payton and Palmer are good friends who met in Dallas. They see each other when Palmer plays in the Zurich Classic in Louisiana, and they've played an occasional round together during the summers.
While Payton said he isn't good at playing golf, he said he's comfortable with figuring out yardage at the Greenbrier Classic, which starts Thursday.
Payton compares being a caddie to visualizing an NFL game through the eyes of a quarterback and said he's taking the opportunity seriously.
"I know what game week feels like for me in the fall, and I know what it will feel like for him and what it does feel like for all these golfers," Payton said. "Just to be invisible as a caddie and do your job and be supportive, those are the things that I look at as being important for me this week."
To which Palmer added jokingly: "Just shut up and keep up. That's it."
Copyright 2013 by The Associated Press