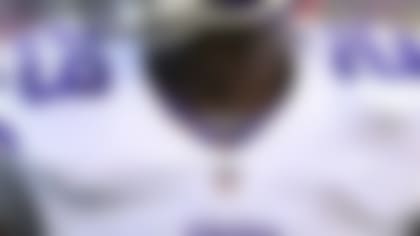 Pryor's "throws have been off the mark, sometimes too high and others too low," the report noted. "He doesn't look comfortable on some of his reads."
As withJim Harbaugh in San Francisco, Seattle's coaching staff has taken its share of chances on reclamation projects under center. Play-caller Darrell Bevell said Monday that the Seahawks are still "kind of feeling out what's gonna be his best stuff."
"Talking to someone who'd know yesterday, I heard the Seahawks believe he's made as much progress as anyone over the past month," longtime Seahawks scribe Danny O'Neill said Tuesday on ESPN Seattle. "In fact, they feel there's been a breakthrough of sorts for him."
Said Bevell: "He's working really, really hard to get it. There are a lot of good things that are happening out here. Sometimes just being able to spit the play out in the huddle can be a challenge and that hasn't been a problem for him. He's been able to rip right through it. He's picking up the offense really well."
The Seahawks initially acquired Pryor with designs to keep him exclusively at quarterback. While we question his future as a starter, we don't doubt Seattle's ability to use its players creatively.
Pryor was a roller coaster ride under center in Oakland, but his occasional flashes of brilliance were tantalizing. If anyone can squeeze something out of this player, it's Pete Carroll and the 'Hawks.