EAST RUTHERFORD, N.J. -- The Seattle Seahawks, as healthy as they've been all season, finished their main preparations for Super Bowl XLVIII Friday afternoon inside the New York Giants' practice facility in the shadow of MetLife Stadium, opening the five doors in the facility for the third straight day to simulate the mid-thirties temperatures they expect to feel Sunday night.
"And now," coach Pete Carroll said, "we wait. We had a great day today. We finished like I hoped we'd finish, and I thought our execution today was very good."
Carroll led his team through what he called a normal Friday afternoon practice, 77 minutes in length, in the Giants' Quest Diagnostic Training Center, again serenaded by loud hip-hop and rap music from start to end. Second-year quarterback Russell Wilson appeared particularly crisp in his execution of the offense and his passes, and Carroll praised him afterward for his focus and preparation all week. A pool reporter asked Carroll what he thought of Wilson's presence and performance in a week with so much riding on the outcome—with Seattle aiming for its first Super Bowl title in history, and with Wilson squaring off against one of the best quarterbacks of all time, Denver's Peyton Manning.
"Russell is exactly where he's always pictured he'd be in life," Carroll said. "He prepares impeccably, and he has prepared like that this week. I think he is ready to play a very good game."
Seattle will hold its weekly walk-through practice Saturday here, but all practice prep is now done. The Seahawks' offensive coordinator, Darrell Bevell, and defensive coordinator Dan Quinn installed the gameplan for the Super Bowl last week at home in Renton, Wash., and this week merely repeated the installation. Each day in New Jersey, Seattle practiced without pads, and Carroll also went without helmets on Friday. Most players wore green-and-blue knit Seahawks hats as they went through their paces in temperatures in the high thirties.
Who ya got? XLVIII analyst picks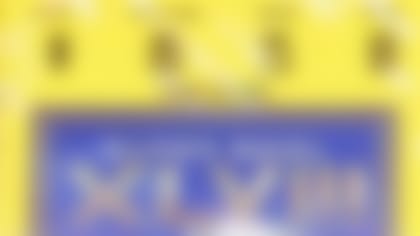 Enough with the ancillary analysis already! Who's going to win the game: Seattle or Denver? Our analysts weigh in. **READ**
It is exceedingly rare for a team to be this healthy in the 19th game of the season (23rd if you count preseason games), and to have nobody an injury question. All 61 active and practice-squad players were on hand, and Carroll said all participated fully. Wideouts Percy Harvin (concussion) and Doug Baldwin (hip) ran freely for the third straight day, with Baldwin stretching consistently through practice to stay loose. Though first-year Seahawk Harvin has played just briefly in two of Seattle's 18 games this year, he appears to be poised to play without limits—at least at the start of the game—in the biggest game of the year.
As a sign of camaraderie, four players switched jerseys. Right tackle Breno Giacomini squeezed into Marshawn Lynch's number 24 jersey, while Giacomini's number 66 looked like a mini-dress on Lynch. Giacomini and Lynch are good friends. Left tackle Russell Okung wore fullback Michael Robinson's number 26, with Robinson wearing Okung's 76. As tight as Lynch was around the media this week, that's how loose he has been at practice, laughing with different position groups throughout practice and in general looking like he's having the time of his life.
Friday's work began with special teams practice, field goals by kicker Steven Hauschka and punts (some of them rugby-style, inside-the-20) by Jon Ryan. And, as usual for Friday, the team practiced red-zone plays on both sides of the ball as well. In scout team play, Richard Sherman intercepted practice-squad quarterback B.J. Daniels, his second pick of the week.
Afterward, Carroll praised the New York Giants organization and the staff at the training facility for cooperating so fully with the Seahawks. "The Giants have been fantastic in opening their doors to us. They've treated us great," Carroll said. "Anything we've needed we've gotten. So we're grateful to them for everything they've done."
The temperature is expected to be about 39 degrees for the 6:30 p.m. ET kickoff Sunday.