The New York Jets made it official Wednesday: Wide receiver Santonio Holmes has been placed on injured reserve with a foot injury and will be out for the season. (Though he should be back next year.)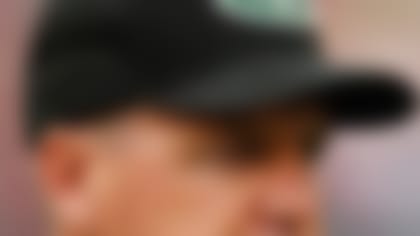 Rex Ryan and the Jets had high hopes for 2012. After a demoralizing loss to the 49ers on Sunday, is their season all but over?
Holmes suffered a Lisfranc injury to his left foot shortly after making a catch in the fourth quarter of Sunday's 34-0 loss to the San Francisco 49ers. Ryan said the injury will require surgery and that Holmes is expected to make a full recovery.
The Jets signed Jason Hill to replace Holmes, but there is no replacing Holmes. For all the headaches that Holmes brought, he was the only player on the Jets' offense who worried opposing defenses.
You don't need to scheme to stop wide receivers Jeremy Kerley and Chaz Schilens. Tight end Dustin Keller is a good tight end, not a great one. He's not a No. 1 option, and he's not healthy. Quarterback Mark Sanchez has shown he's not the type of player to lift those around him. Tim Tebow remains lurking and could wind up playing eventually if owner Woody Johnson pushes for it. The team's running game lacks a difference maker; the Jets are 30th in the league in yards per carry.
"The fact that we lost two excellent football players does not change our expectations," Ryan said, admitting that this will test the Jets' resolve.
Perhaps it doesn't change Ryan's expectations, but it does change ours. We saw New York as a flawed team that still had the defensive talent to make a run to the playoffs. Eight wins or more would be a masterful coaching job by Ryan.
"How many people will feel sorry for the New York Jets?" Ryan asked. "I've got the answer ... nobody."
UPDATE: Holmes thanked fans via Twitter for their support.