St. Louis Rams quarterback Sam Bradford believes he is on pace to return from ACL surgery by the time his team opens training camp in July.
"Barring any major setbacks, I feel very confident for camp," Bradford told the St. Louis Post-Dispatch on Thursday. "From everything that Reggie's told me, he feels like that's an attainable goal. He feels really good with where we're at right now, and the progress that we've made in these first eight weeks. I think as long as we continue on this track, I'm confident that will be a reasonable thing."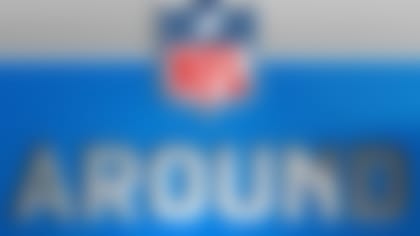 The Around The League team hits all the NFL's hottest topics in its award-winning podcast. Join the conversation. Listen
Bradford said he currently is working five days a week at Rams Park with the team's head athletic trainer Reggie Scott. Bradford underwent surgery more than eight weeks ago and said he's been doing light throwing from the seated position to keep sharp.
Rams general manager Les Snead has been adamant about the team's commitment to the 2010 overall No. 1 draft pick. It is a pivotal season for Bradford, as he tries to justify his team's faith, despite his injury history and average play.
Being prepared from the jump will be a good start for the quarterback.