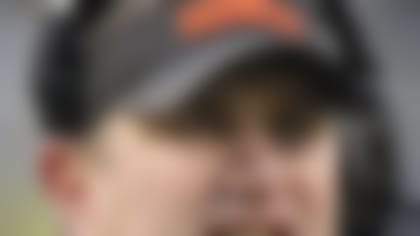 Who will join ex- Browns coach Rob Chudzinski on the firing line and who's safe? We track the latest news. **More ...**
As we discussed on the "Around The League Podcast," Tannehill missed numerous throws and appeared to regress with the season on the line.
Part of the issue might have been the second-year quarterback's waning faith in his offensive coordinator.
NFL Media Insider Ian Rapoport reported Monday that Tannehill lost confidence in Mike Sherman, according to people who spoke to the quarterback.
Dolphins owner Stephen Ross said after Sunday's 20-7 loss the team is going to "look at everything" when it comes to offseason changes. Even if Ross brings back coach Joe Philbin and general manager Jeff Ireland, he could insist on other changes -- including moving on from Sherman.
Tannehill has shown big-time potential this season, but his last two games in particular have been terrible. He had a 43 percent completion rate, averaged 143 yards (4.05 yards per completion) and tossed just one touchdown pass to three interceptions as the Dolphins crumbled with the playoffs in reach.
When asked Monday if Sherman would be back next season, Philbin "punted," according to The Miami Herald's Adam Beasley.
Sherman has been the center of fans' ire much of the season. He's been questioned on everything from his penchant for abandoning the running game to Tannehill's stunted progress. The latter might cost him his job.