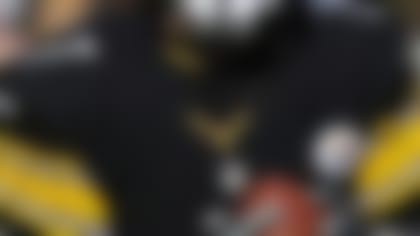 "He was awful," the teammate said of Woodley to the Pittsburgh Post-Gazette. "He tells us he works out, but we didn't see it. He wasn't in shape. That has to be a reason why he was always hurt."
Woodley isn't going anywhere. He's one of the core pieces to the Steelers' defense, and they might need him more than ever with linebacker James Harrison poised to be a salary-cap casualty this offseason. Safety Ryan Clark, speaking Monday on NFL Network's NFL AM", wishes the anonymous teammate kept his comments private.
"My biggest problem with that is not LaMarr, or is not someone's feelings about LaMarr," Clark said. "My problem is now it's public. We were talking about the Ravens earlier, we were talking about the brotherhood, we were talking about the family that they were. We all have arguments with our brothers, sisters, cousins, but that stays in-house. What you talk about then stays there and it doesn't get out to the public. So that is the problem. ...
"That shows that this team that is normally close, you had the Joey Porters, the Alan Fanecas, just down the line, leader after leader, this team was close-knit. It shows there is a fracture in that. I think that is the most disappointing thing about that coming out."
Clark went on to emphasize that Woodley is training in Arizona this offseason. Perhaps Woodley knows that he didn't do enough last season to live up to his contract.