Russell Wilson's first two football seasons treated him far better than his two baseball seasons did as a slap-hitting, minor league second baseman.
But that's not stopping the Super Bowl-winning quarterback from giving baseball another (novelty) shot.
The Seattle Seahawks' signal-caller is expected to suit up for the Texas Rangers and participate in the Rangers' morning workout March 3. He's also slated to be in uniform for their exhibition game against the Cleveland Indians in Surprise, Ariz. No indications have been made if Wilson will make an official plate or field appearance.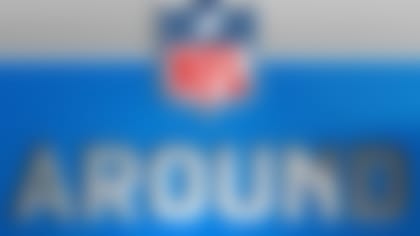 The Around The League team hits all the NFL's hottest topics in its award-winning podcast. Join the conversation. Listen
Mark Rodgers, Wilson's agent, told NFL Media Insider Ian Rapoport in December that Rangers general manager Jon Daniels invited Wilson to take batting practice and field grounders. Rodgers also said that Wilson has no intentions of being a two-sport professional athlete, and that the Rangers drafting Wilson "has very little consequence to Russell or the Seahawks."
Wilson's baseball background has been much publicized.
He was drafted by the Baltimore Orioles out of high school in 2007, but opted for a football scholarship from N.C. State instead. He was drafted again three years later in the fourth round by the Rockies and toiled in their farm system for two seasons. In 93 games between 2010 and 2011, he tallied a .229 batting average, five home runs and 26 RBI before being selected by the Seahawks in the third round of the 2012 NFL Draft.