NEW YORK -- I usually work from home on Thursdays, but this isn't your normal Thursday. A call arrived in my mother's basement just before noon to get out of my T-shirt and go to 345 Park Avenue as fast as possible.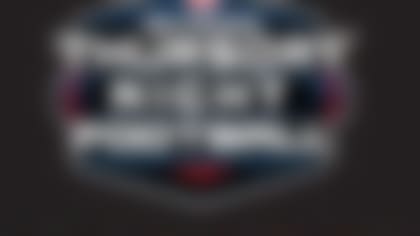 NFL Network isn't the only way to watch "Thursday Night Football." Follow the game online with this interactive companion.
Thirty harried minutes later, I was suited, booted and ready to ask NFL Commissioner Roger Goodell some questions for the Around the League electorate. The most important constituency on this day: upset Green Bay Packers fans. Goodell was sorry in general to put fans through the referee lockout but felt Packers fans would understand in the long run.
"Well, anytime you have these controversies, they stay with us," Goodell said when asked what he would say to Packers fans. "The Tuck Rule. There are a lot of calls that are looked back on in history. That's part of sports. That's part of the NFL.
"You try to do everything you can to avoid those, but they are going to happen. They will happen in the future. And it's just something that I know that Packers fans, as frustrated as they are, as disappointed they are in the outcome, they also understand that's happened over decades. Unfortunately, it will happen going into the future."
The referee lockout mostly will be forgotten now. We'll move on to football. The big exception will be when it comes to the NFC playoff race. As Seattle and Green Bay jockey for position, the Hail Mary that wasn't will be constantly referenced. Just like the Tuck Rule.