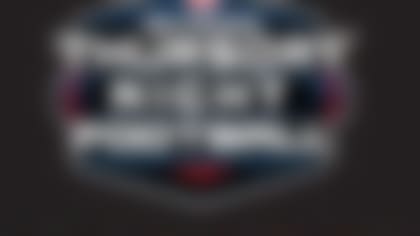 NFL Network isn't the only way to watch "Thursday Night Football." Follow the game online with this interactive companion.
Goodell insisted during a Thursday conference call that the timing of the deal was not a reaction to the outcry over "Monday Night Football." The two sides had been in "intensive negotiations" the last two weeks, he said, though he acknowledged that game "may have pushed the parties further along."
The commissioner was watching at home Monday night.
"You never want to see a game end like that," Goodell said.
But he wouldn't concede that the presence of replacement officials increased the chances an egregious mistake would occur. Goodell repeatedly reminded reporters that the regular officials have botched plenty of calls over the years.
The new agreement, he said, will improve officiating week in and week out, reducing similar mistakes in the future and making the strains of the last three weeks worthwhile.
In the meantime, he asserted, players' health and safety were never jeopardized by the use of replacement officials.
"The folks on the field during the last three weeks were under unprecedented scrutiny," Goodell said. "Everything they did, every call, was magnified. They kept the game going. They worked hard. They trained hard. They were incredibly focused and dedicated."
The new deal is the longest between the NFL and game officials in NFL history. Officials will vote on the agreement Friday and Saturday in Dallas, and a clinic for them will be held after the vote.
The Associated Press contributed to this report.