Opening Statement: Hi. It's NFL Commissioner Roger Goodell. To kick off Super Bowl Week, I want you to Ask Me Anything.
Super Debate: Harbowl advantage?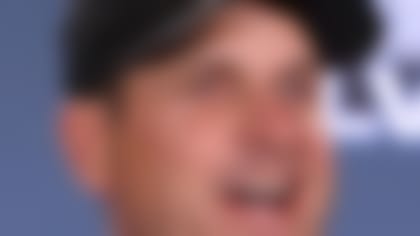 Which Harbaugh has the coaching edge in Super Bowl XLVII: Jim or John? Our analysts provide their thoughts. **More ...**
I hope you are all looking forward to Super Bowl XLVII this Sunday. We're working hard to bring our fans closer to the game and all events in New Orleans that lead up to it. I'm excited to get down there later this week. If you can't join us in New Orleans, our friends at NFL Media will be covering everything Super Bowl which you can follow here: www.nfl.com/video, www.superbowl.com, www.Facebook.com/NFL.
I look forward to your questions. Let's get started.
Question: Dear Commissioner. I was curious about what you thought on the role of traumatic injury in the NFL, and the dichotomy between making the game safer versus giving the fans the hard hits and satiated bloodlust they so clearly desire. It seems to me that a lot of the popularity of the game boils down to the fact that there is that risk of injury, so I guess what I'm essentially asking is how are you going to balance that going forward without people feeling like you're never going to give them up, or never going to let them down?
Answer: The game of football has always been tough and always will be. Even before the NFL was founded, President Teddy Roosevelt called the college presidents in to make sure that the safety issues of the game were addressed since there had been 17 deaths in 1905 alone. From there came the first and ten, forward pass and the inception of the NCAA. Since then, the game has flourished while sticking to the fundamentals of fair and competitive football. Our football coaches and executives wanted to bring the game back to the fundamentals of tackling and blocking. We have seen some of the best NFL football in our history during this season's playoffs. Hope we finish with another great one on Sunday.
A: When I met with the players the day before the draft, Melvin asked if I would give him a special handshake. He showed it to me and then we practiced one time. It was fun, glad I didn't screw it up for Melvin.
Q: At what point do the increased regulations for player health and safety begin to threaten the integrity of the game? Namely, your recent discussion of Schiano's proposal to eliminate kickoffs? Players do need to be protected, but injuries are a known risk when they choose a career in the NFL. Are the increased fines, rule changes and proposed changes to game fundamentals just a way of limiting future litigation and financial threats to owners?
A: Since the NFL's inception, we have always made rule changes to balance safety with making the game more exciting. We have proven over the years that we can make the game more popular and better while increasing safety for our players. We will continue to move down that path. The game has prospered since removing the head slap, the crackback block, flying wedge and horsecollar tackles. This past season, 20 of 32 teams started the same quarterback in every game--the highest ever. That's good for fans as well as the safety of our players.
Q: What's a rule currently in place in the NFL that you expect to change within the next couple of years? What's a rule NOT in place that you think needs to be implemented?
A: We're reevaluating all low blocks on defenders. I would anticipate that there will be changes in this area. These rules are studied very carefully by the Competition Committee, which is made up of GMs, owners and coaches, including with input from the players, and then voted on by the full membership. The reason they get such careful analysis is to make sure we understand the unintended consequences of any rule changes, and that they can be officiated with consistency. For more on the history of our rules changes, visit www.NFLEvolution.com
Q: Would you consider allowing more extensive touchdown celebrations again?
A: This rule gets reconsidered by our Competition Committee every year. We think we have a good balance between sportsmanship and natural enthusiasm. We want the players to be able to celebrate without taunting the opponents and causing a retaliation.
I'd be interested to see how other fans feel: do we want more?
Q: Hello Mr. Goodell - welcome to Reddit.
To start things off, there is a HUGE NFL following on reddit (/r/nfl) and pages for every team with their own dedicated followers. We are extremely passionate about the game and are constantly talking about all things NFL. You're going to get insightful and hard-hitting questions about EVERY aspect of the game itself, the league, and how things have been/will be done. We look forward to your answers!
In regards to expansion: There is clearly a huge market in Europe, South America, and many other parts of the world. People are talking about overseas expansion. Is there a long term plan to bring new NFL teams to the rest of the world?
A: Thad, glad to hear that Reddit is so passionate about NFL football. Hope you all have enjoyed the season as much as I have.
We expanded our regular season series in London to two games this year. So far, we've seen the same passionate support for the NFL in London, based on ticket sales to date. If our game continues to grow in London, it would not surprise me if we had an NFL team in London someday.
A: No, the penalty will continue to include the 2nd round draft choice in 2013.
Q: With the record profits of the NFL, what do you say to the thousands of elderly and disabled fans who are physically unable to attend games but who still are punished with television blackouts, particularly when economists agree blackouts don't significantly increase ticket sales?
A: The blackout rule has served us well for several decades. In the 70s, we averaged 50 percent of our games blacked out. In the 80s, 40 percent of our games were blacked out. In the 90s, 30 percent of our games were blacked out. The past two seasons, it has been around 6 percent. We continue to be the only league with our games on free television, so that everyone can see them. This is the balance between having full stadiums with a first class in-stadium experience and having our games on free television.
Q: Hi Roger, you're awesome for doing this AMA!!
Just one tough question for you. How do you feel about Tom Brady being fined 10K for that intentional kick while he slid to the ground after Frank Gore had just been fined 10.5K for wearing his socks too low?
I understand dress code is not something that can be taken lightly, but there has got to be a better format for the fines right?
EDIT: I get that it was Frank Gore's 2nd offense of the season. But lets not forget that it was still a fine over his socks being too low.
A: I notice there are a lot of questions on socks. This is a matter initially judged by a former player at the game called the Uniform Inspector. It is part of our effort to look and act professional at all times. There is a standard fine for violations that our Football Operations department issues on a routine basis. This is a system that was put in place in the 60s and has served us well.
Q: Do you believe you mishandled the Bountygate investigation in any way? If you had a second chance, would you take any different actions?
A: We removed bounties from the game. Bounties won't be part of football. That's good for everyone involved.
In the future, I hope that everyone--commissioners, coaches, players and the union--will work better collectively to ensure the safety of the game and enforcement of our rules. The safety of our game is a shared responsibility.
Q: Thanks so much for stopping by here. I wanted to know:
Just how important is Rich Eisen to the NFL Network and shouldn't he get a raise?
A: Thanks for your question, Mrs. Eisen!
We are proud of the work Rich does on the NFL Network. It has been gratifying to see the growth and success of the Network, which he is a big part of.
Q: How open is the NFL to making changes to the pro bowl?
A: I watched the game and noticed the improved quality of the game. I appreciate the players' commitment in this regard. We need to continually work to make our game better for the fans. I look forward to getting detailed player comment and input over the next few weeks.
Q: It was announced today that you have a 39 percent approval rating amongst NFL players. Why do you believe your rating is so low, and are you planning on focusing more on issues important to the players given this news?
A: I continually try to focus on issues that benefit the NFL in the long term, including, and most especially, our players. I truly respect our players and get tremendous feedback from them. They help us make better decisions. I look forward to working more closely with them in the future.
Q: Hello Mr. Goodell. As an NFL fan for a long time, I appreciate the amount of dedication you have towards the game. My question to you is, at what point this year, did you decide that enough was enough and we needed to get the situation with the replacement referees settled? Was it a specific event like the Packers vs Seahawks game or was it the amount of pressure you were receiving as commissioner?
A: We never wanted to have a work stoppage with the officials, but faced with the circumstances of not playing or not being able to improve officiating for the long run, we needed to get an agreement. I regret that it took longer to get an agreement. Eventually, we reached an agreement that allowed us to add full-time officials and a developmental roster of officials that we hope will improve officiating for the long term, which we all want.
Closing Statement: Thanks so much for your questions. Sorry we couldn't get to all of them today. Let's do this again sometime. Enjoy the game this weekend.