"We appreciate Chud's passion for the Browns, and we have great respect for him both personally and professionally," the team said in a statement. "We needed to see progress with this football team. We needed to see development and improvement as the season evolved and, unfortunately, we took a concerning step backward in the second half of the year.
"Our fans deserve to see a consistently competitive team. We have high standards, and there's an urgency for success. When we believed we were not positioned to achieve significant progress in 2014, we knew we had to admit that a change was needed, and move forward."
It's a move nobody saw coming as recently as a few days ago, when it was assumed that Chudzinski was part of a front-office plan to restore a sense of continuity to a franchise that has chewed through coaches like cotton candy since returning to the league in 1999.
"I was shocked and disappointed to hear the news that I was fired. I am a Cleveland Brown to the core, and always will be," Chudzinski said in a statement released Monday.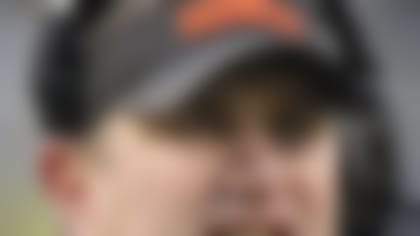 Rapoport was told earlier Sunday that team brass had soured on Chudzinski down the stretch because of a lack of effort and accountability on the part of his players. A seven-game losing streak, including a 20-7 loss to Pittsburgh on Sunday to cap a 4-12 season, didn't help.
Rapoport notes that the front office approached the coaching staff with issues late in the season, but the coaches did not acknowledge the problems. The Browns coaches kept saying they were "close" but the team's performance continued to trend downward.
NFL Media's Albert Breer was told that Cleveland's front office directed Chudzinski a couple weeks back to cut a player for accountability issues. Chud refused.
Two players, in particular, the front office didn't feel were held accountable this season were quarterback Brandon Weeden and wide receiver Greg Little.
Breer believes that Penn State's Bill O'Brien and New England Patriots offensive coordinator Josh McDaniels likely would top Cleveland's wish list as candidates to become the team's seventh head coach since '99.
The Browns interviewed O'Brien last offseason, but the former Patriots assistant has become a hot name since taking an interview with the Houston Texans earlier this month. McDaniels worked his way out of a coaching job in Denver, but he comes from the Bill Belichick coaching tree, like Browns general manager Michael Lombardi.