"This is the last year of my contract." Bironas said, according to Dan Ariks of TitanInsider.com. "Obviously I started my career here, and I want to end it here. I hope the Titans get something together before the season starts, so I'm not trying out for another 31 teams."
Debate: QB controversy... to playoffs?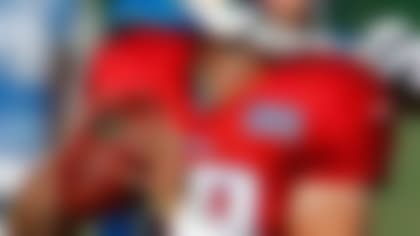 Four teams have notable QB battles taking place right now. Which one has the best shot at the playoffs? Let's debate! More ...
Bironas is entering the fourth and final year of a $12 million extension he signed after the 2008 season. Bironas is 80 of 90 (88.9 percent) on field goal attempts, including 13 of 16 from beyond 50 yards, over the last three seasons. He is scheduled to make $2.85 million in base salary in 2012.
According to Ariks, Bironas wants to concentrate on football, not his contract, during the upcoming season.
A deal between Bironas the Titans shouldn't be too complicated. The Titans are flush with cap space (over $19 million) and are in the bottom five in terms of cash spending in 2012. Bironas' agent has done several deals with the Titans, as he represents a handful of players on the team, including Matt Hasselbeck and Jake Locker.
The market for kickers is well-established, as Barth, Prater and Scobee signed four-year contracts worth between $13 million and $13.8 million overall, including $4 million to $4.75 million in guaranteed money.
Though potential unrestricted free agents Jason McCourty and Jared Cook would certainly be higher priorities next offseason, the Titans could use their franchise tag on Bironas. However, doing so would cost the Titans $4.41 million, 120 percent of Bironas' $3.675 million cap number from this season.