"This guy is the starting right tackle," DeGuglielmo said, according to Jenny Vrentas of The Star-Ledger. "Until they tell me otherwise, until they ship him out of this building or until they shoot me dead in my office, that son-of-a-gun is going to be the starting right tackle. And he's going to play well."
Cosell: Untapped potential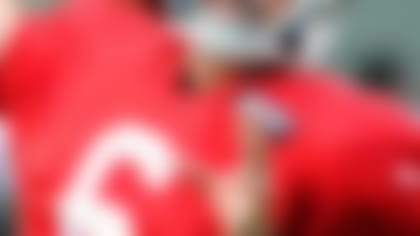 Greg Cosell outlines how the Jets and Bills can get more out of Mark Sanchez and Ryan Fitzpatrick, respectively. **More ...**
Well, Hunter hasn't played well. The "son-of-a-gun" gave up multiple sacks in Saturday night's preseason 26-3 loss to the New York Giants. Hunter has not been shipped out of the building, and with his $2.45 million base salary being fully guaranteed, that's unlikely to happen.
Fortunately, DeGuglielmo has not been shot dead in his office, but he may discover from head coach Rex Ryan in upcoming personnel meetings that Hunter is no longer the team's starting right tackle, Vrentas reports.
The competition at right tackle will not include veteran Stephon Heyer, who was released Monday. Ryan would not rule out first-team reps for Austin Howard, a former undrafted free agent out of Northern Iowa with four games (with the Philadelphia Eagles in 2010) of NFL experience.