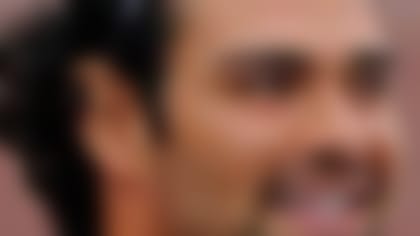 Ryan sincerely believed Sanchez would be the quarterback who would lead the Jets to Super Bowl glory. The coach called Sanchez his "baby" and wrote that he planned to one day frame Sanchez's draft card, a prized possession he kept tucked away in a drawer at home.
How things have changed. The Jets said goodbye to Ryan's "baby" last week, releasing Sanchez after five topsy-turvy seasons. On Tuesday at the NFL Annual Meeting in Orlando, Fla. Ryan spoke about Sanchez's departure.
"I think it's good for him that he moves on," Ryan said, per the New York Daily News. "He'll have a chance to start again, I think. He had success here. I'm sure he has some great memories here and some great moments. That's more than a lot of people can say."
"That's my first draft pick (as) a (head) coach," Ryan added. "You have the vision that this guy's going to be with you for 10 years. I'm sure every coach has that. Very few make it that far. In an ideal world, that's what you would have liked."
Ryan pointed to Sanchez's win-loss record as an indicator of his starter chops. The Jets went 40-33 in games Sanchez started, including a 4-2 mark in the postseason.
"I think the best judge of quarterbacks is probably their record," Ryan said. "His win-loss record is not by fluke. The guy has talent. The big thing about Mark (is) when he learns how to protect the football better, that's probably the thing that's missing more than anything else."
You'll find plenty of people who don't think a team's record is an accurate way to gauge quarterback play. You can make the case that Ryan's defenses carried Sanchez -- especially early in his career -- and there's data to back that up.
In truth, Ryan will always have a soft spot for Sanchez. He has a tattoo of his wife wearing a No. 6 jersey, for Pete's sake -- but don't ask him about that.