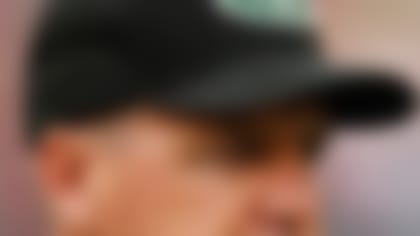 Rex Ryan and the Jets had high hopes for 2012. After a demoralizing loss to the 49ers on Sunday, is their season all but over?
"We haven't been as successful at running the Wildcat as I thought we would," Ryan said.
This would be an understatement. Running plays featuring Tebow behind center have been almost exclusively of the two-yards-and-a-cloud-of-FieldTurf-pellets variety. Tebow didn't even attempt his first pass until Sunday, a 9-yard completion to tight end Dedrick Epps ... who promptly coughed it up for a turnover. Fitting, huh?
Ryan said he's not ready to abandon the Wildcat, but then again, there isn't a real attractive Plan B here. Santonio Holmes is likely on the shelf for some time with a foot injury. As for Mark Sanchez? The quarterback's startling ineffectiveness for three weeks running has put the team in a very uncomfortable spot.
Predictably, the calls for Tebow to replace Sanchez are growing louder. LaDainian Tomlinson -- who went to the AFC Championship Game with Sanchez in 2010 -- doesn't think it's that easy.
"Mark Sanchez is struggling like always," Tomlinson said Monday on "NFL AM," "but they have to stick with him because they don't really have any other option."
Well, they do have an option in Tebow. That's what backup quarterbacks are for. But nothing is that easy with the Jets these days. Bless this mess.