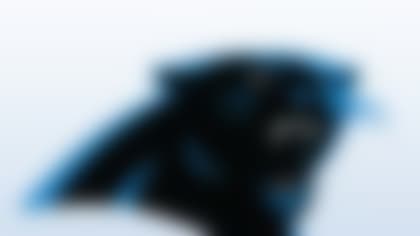 Around The League examines what's next for all 32 NFL teams. David Ely hits the Panthers. **More ...**
Well, at least the Carolina Panthers don't play favorites. They're equal-opportunity salary-cap slashers.
Chris Gamble, the organization's all-time leader in interceptions and third-longest tenured player, was released Friday.
"There's two sides to football -- the football side and the business side," Gross told Person. "In the offseason, you deal with the business side.
"Right now, the Panthers and I are trying to work out the best solution to help this team move forward."
Gross, 32, was the No. 8 overall draft pick in 2003 and has two Pro Bowls (2008, 2010) on his resume. He has a base salary of $8.7 million in 2013 and $6.7 million in 2014 (the final year of his contract) As is, Gross will count $11.7 million against the cap in 2013 -- the second-highest on the Panthers behind Charles Johnson's $13 million. The restructured deals for Kalil and Olsen did not subtract from their overall pay. Nakamura, who lost his starting job, took a $500,000 hit on his re-worked contract.
If those are indicators, Gross might have some money moved around and/or converted to a signing bonus. Either way, Gross doesn't want to go anywhere else.
"I'd love to be a part of the equation for success in 2013. This is just something that has to get worked out."