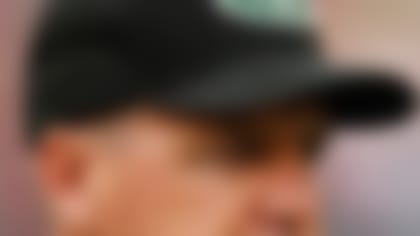 Rex Ryan and the Jets had high hopes for 2012. After a demoralizing loss to the 49ers on Sunday, is their season all but over?
Jets coach Rex Ryan gave an update on Holmes during a Monday afternoon news conference saying the team is still gathering information on their wide receiver's foot injury. Faced with the prospect of possibly not having Holmes on the gridiron in the weeks ahead, Ryan said, "I have confidence in the guys we have. If we're healthy, I feel good about our group."
Holmes injured his foot when he caught a pass in the flat and planted his left foot to turn upfield during the fourth quarter of Sunday's 34-0 loss to the San Francisco 49ers. He dropped to the turf untouched. X-rays were negative, but Holmes was scheduled to have an MRI on Monday.
Holmes is, by far, the best offensive weapon on the Jets roster. Quarterback Mark Sanchez didn't have much to work with before Holmes went down.
Ryan is more optimistic than most of us.