Really now: If New England Patriots fans had to choose a geographic pinpoint as the worst spot in the world, wouldn't it be those blasted steps going down to the locker room at Gillette Stadium?
Instant Debate: More troubling loss?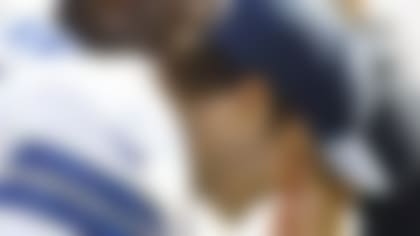 That flight of stairs first gained infamy four years ago this month, when a compromised Tom Brady hobbled down them on the way to an MRI machine. We all know how that ended. On Sunday, FOX cameras were trained on that stairwell again, this time as Aaron Hernandez headed for an examination of his beat-up right ankle.
Luckily for the Patriots, fate was kinder to Hernandez than it was to Brady in 2008. But the ankle injury suffered by the tight end remains a massive concern for the team. The Patriots believe the injury is a high ankle sprain, a source who was briefed on the tight end's injury told NFL.com and NFL Network's Albert Breer on Sunday.
Citing a source, ESPN.com reported Monday that Hernandez will not play in Week 3 against the Baltimore Ravens. (This is hardly a surprise if you saw Hernandez's lower leg defy the laws of human anatomy against the Arizona Cardinals.) According to the source, Hernandez likely will not return until October at the earliest.
Cardinals safety James Sanders told The Associated Press on Monday that Hernandez's injury "took away a lot of things they are able to do."
"It's unfortunate for them," Sanders said, "but it helped us out."
Now the Patriots must prepare for a stretch of games without the most elastic player on their offense. They have enough weapons to survive, but Josh McDaniels will have to audible on the fly.