"I'm really just waiting on my opportunity," Mendenhall recently told the Pittsburgh Post-Gazette. "I just want to continue to work and, as we as an offense sort of form ourselves and bring the pieces together, I want to bring whatever piece I bring.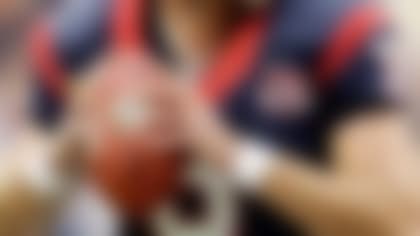 Our analysts provide Super Bowl picks with four Sundays in the books. Matt 
Schaub's Texans get love on the AFC side. More ...
"But we struggled as a running game early in the season last year, and that's part of it. We just want to continue to grow and, as long as we get better and not worse, that's what we want to do. But we see it from a different light -- we see how close we are (to breaking out) so we just will keep working."
Mendenhall rushed for 1,100 yards in 2009 and 1,200 yards in 2010. Isaac Redman and Jonathan Dwyer haven't been very effective as replacement backs.
"Getting (Mendenhall) back is really going to help us," offensive lineman Doug Legursky said. "Not that the other two backs haven't done a good job because they have, but Rashard's explosion, his speed and his experience will really just add to it and make us that much better. He is one of those guys who is able to press the hole and he is also just speed around the edge where nobody is going to catch him.
"That makes him a dangerous piece to our offense, and we're excited about getting him back."
Mendenhall tore his ACL during the 2011 regular-season finale against the Cleveland Browns. The Steelers now will have more talent at the position, but Mendenhall admitted all of his speed and cutting ability has not returned. He also hasn't played in new offensive coordinator Todd Haley's scheme. There will be a transitional period.