Pizza in New York can be a touch confusing. There are endless mom-and-pop shops around the island. Of course, many of them seem to be run by a guy named Lefty, Lou or Frankie. There is the "Ray" empire. You know, Ray's Pizza. Famous Ray's. Famous Original Ray's. I mean, it can make your head spin. (And for the record, Daniel Jeremiah and I go to Famous Original Ray's on 7th and 52nd Street when we are in New York for the draft.)
The point is there are so many great spots in New York that there's no need to go to a Sbarro. Unless you enjoy that kind of thing. Instead, though, take a chance on a sleeper instead of going for the familiar name. Wait, am I still talking about pizza or sleepers?
Well since this is a fantasy football column, let's go with a sleeper. And since I brought up Jeremiah's name, it reminds me of something he said a few weeks ago. That was that the Bills really like the development of Robert Woods. And what's not to like? He looked pretty good during his rookie season with the Bills. I mean, he didn't look like a rookie at the end of the season. And he also looked like he was going to bury the misconception USC receivers can't translate to the NFL.
Follow Adam Rank on NFL.com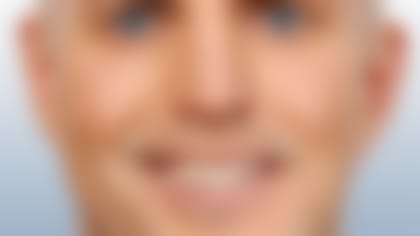 With his irreverent takes, Adam Rank writes about all things football -- real and fantasy. Keep up with his latest spin. More ...
So I'm going to go ahead and make him the final installment of Rank's 11. But yeah, the Bills made some news on the receiver front recently in the NFL Draft. ICYMI, the Bills mortgaged the future to select speedster Sammy Watkins with the fourth overall selection last week. A brazen move and one that might seem to nuke the value of Bobby Woods. But don't look at it that way.
Woods was pretty good last season as a rookie. A rarity for a rookie and a receiver from USC. Though, I'm less inclined to believe lazy analysis that will blindly dismiss a player because of the university he played for. Each guy is different. I mean, do we dismiss Peyton Manning because Tennessee doesn't turn out great quarterbacks? No, we dismiss him because he doesn't play well in big games. But that's another story. And really, it has nothing to do with Bobby Woods.
But he was really good last season. And I don't see Watkins hurting his value this year, either. In fact, Watkins should help Woods' value. Defensive coordinators are going to keep an eye out for Watkins and will have to scheme to stop him. Which will open up things for Woods who is going to have a huge season in Buffalo. I would take him over some of the bigger names such as Reggie Wayne, Wes Welker and Danny Amendola. I might even consider him over Dre Johnson if he doesn't get his (expletive) together in Houston.
Woods is going to be big this year. I won't say he's going to put up Josh Gordon-like numbers this season, but he's going to get around 1,200 yards with double-digit touchdowns. Believe that.
Oh, and stay out of Sbarro.