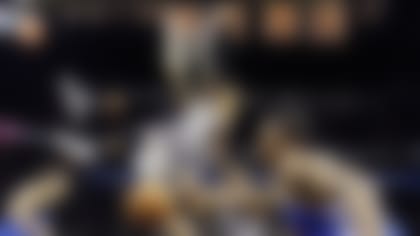 The San Antonio Spurs will embark on a quest for championship No. 5 as they start the NBA Finals on Thursday. (Or, fourth championship if you subscribe to Phil Jackson's theory that an asterisk should be attached to their 1999 title. And frankly, I do.)
The question about the Spurs is where does their current dynasty rank among the all-time greats? And while the NBA enthusiasts can debate the Spurs with the 1960s Celtics, 1980s Lakers and 2000 Lakers, let's turn our attention to the NFL.
Frankly, who is the greatest dynasty in NFL history? I've had this discussion with some of the fans on Twitter in recent weeks. I figured I would give this a stab right now.
Honorable mention: the current New England Patriots. The Tom Brady dynasty started in 2001 and has continued through today. I do want to give this dynasty a chance to breathe a bit before we can put it into the context of history. You have to believe history is going to be very favorable with three Super Bowls in four years along with AFC dominance without many stars and a revolving roster.
And without further ado ...
The Cowboys featured a young roster and "the triplets" of Troy Aikman, Emmitt Smith and Michael Irvin when they won Super Bowl XXVII. And it looked like they were poised for a long run after they won back-to-back Super Bowls. The firing of Jimmy Johnson and free agency doomed the 'Boys. A win in Super Bowl XXX is not given enough credit and looks like a miracle when you consider the current state of the Cowboys.
Vince Lombardi's Packers lost in the 1960 NFL Championship Game, but he vowed not to lose another playoff game after that. And he didn't in Green Bay. The Packers would win five NFL titles during that run, including the first two Super Bowls. You might not know this, but Lombardi's name is on the Super Bowl trophy.
There might be some debate as to whether to include the Browns or not because of their four consecutive AFC championships. The Browns validated their existence with a title in their first NFL season (1950) and a trip to the championship game in 1951-53 and then two NFL titles in 1954 and 1955. That's appearances in 10 consecutive championship games.
The Steelers ended a 24-year drought when they reached the playoffs in 1972. Don't Google it, the answer is "yes" to your question about the 1972 playoffs -- that is the Immaculate Reception game. The Steelers would win four Super Bowl titles in six years against some of the most well-regarded teams in NFL history. The 1976 Steelers failed to win the Super Bowl, but many consider that squad to be the best team in franchise history. But injuries to Franco Harris and Rocky Bleier kept them from winning.
The Steelers were more dominant over a shorter period of time, but that plays to the 49ers' strength. The 49ers won five Super Bowls over this period with two different quarterbacks and two different head coaches. That's saying something. Plus, if you look over a greater time period, the 49ers missed the playoffs just twice from 1981-1998. The 1991 49ers just missed the playoffs (they finished 10-6) and the general feeling was, if they reached the postseason, they would have won the NFC. So this is a pretty good run of dominance.
Adam Rank has never won an award. For anything. We don't mean to be harsh, but it's true. You can follow him on Twitter @adamrank. Oh, and if you liked this (right!), check him out on the latest "Dave Dameshek Football Program". Which, come to think of it won an award. So Rank has won something meaningful. Yes, meaningful unlike this latest post. Am I right? But follow him on Twitter, please. He's taking us to lunch if he gets 25 more Twitter followers today.