Jeremiah: Is Philip Rivers done?
Rivers was asked Wednesday if there was anything to the "chatter" that the Chargers lack a killer instinct when it comes to closing out games. San Diego blew a 24-point halftime lead against Peyton Manning and Co.
"I think it's just what you said, a lot of chatter," Rivers said in quotes distributed by the Chargers. "There's no substance, and it doesn't matter what anyone on the outside thinks."
Rivers appeared to agree with that game plan ... to a point.
Instant Debate: Bolts blame game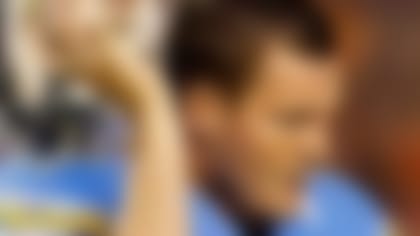 Who's to blame for San Diego's Monday meltdown: QB Philip Rivers, head coach Norv Turner or GM A.J. Smith? More ...
"There's a fine line between being careful and careless," the four-time Pro Bowl quarterback said. "You don't want to play the whole game careful, but you certainly don't want to play careless. We've always been aggressive, and I'm going to continue being aggressive. I'll throw another interception this season. But I need to make sure it's not like it was the other night."
The Chargers can't be scared out of who they are because of one disastrous half. Rivers has made his name making big plays. San Diego's offense is better off trying to fix that problem rather than abandon what historically has been a strong suit.