Manning & Brady: Roads to Glory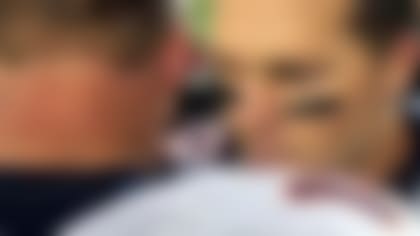 Peyton Manning and Tom Brady have taken two very different paths to iconic status. Judy Battista and Albert Breer explain. **READ**
NFL Media's Steve Cyphers reported that the Denver Broncos quarterback was not stretching with teammates during the portion of practice open to the media. The Denver Post reported that Manning did take part in the team walkthrough.
Manning has been known throughout his career to take every practice rep available, but things are shifting with the veteran now in his 16th season. Manning has sat out several Wednesday practices, likely in an effort to take stress off his ailing ankles. Manning last took part in a Wednesday practice on Oct. 16.
If he follows the plan of recent weeks -- which should be expected with the New England Patriotson deck -- Manning likely will return to practice Thursday.
Wide receiver Wes Welker and tight end Julius Thomas also were held out of practice, according to multiple sources. USA Today reported that Welker -- who suffered a concussion in Sunday's win over the Chiefs-- was seen heading to the weight room area with a strength coach after the stretching period. Thomas is considered day to day with a knee strain.