The New England Patriots will go without one of their dangerous pass-catching tight ends for at least a month.
Tight end Aaron Hernandez will miss four to six weeks with a low ankle sprain, NFL Network has learned from a source briefed on the injury.
Instant Debate: More troubling loss?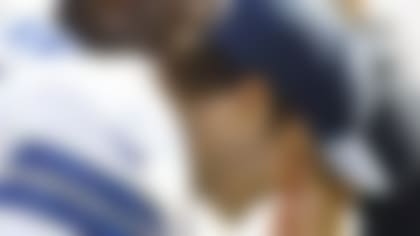 Hernandez is more likely to return after six weeks than four, another source briefed told NFL.com and NFL Network's Albert Breer, adding that the injury is a low ankle sprain, but there is also damage to the high ankle area.
Coach Bill Belichick drafted Hernandez along with Rob Gronkowski before the 2010 season and used the duo to re-imagine New England's attack and alter the way we view the tight end position. Gronkowski's 1,327 yards and 17 touchdowns through the air made headlines last season, but Hernandez was primed to become as fluid a weapon for the Patriots this season.
Hernandez accounted for 910 receiving yards and seven scores, but we saw him used out of the backfield during last season's playoffs and it appeared the team was just getting started on his potential. He'll be back this season, but Tom Brady and the Patriots won't house the same ultra-creative offense until he returns.