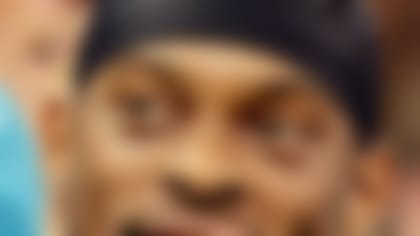 "I've never really thought about leaving, so the thought of staying a Panther never really crossed my mind because the thought of leaving never crossed my mind," Williams told the Charlotte Observer. "In my mind, I'm going to continue being a Panther until told otherwise. So those thoughts aren't there."
Panthers interim general manager Brandon Beane told The Associated Press the team isn't shopping Williams, but The Observer reported that at least one contender has contacted Carolina about a trade for the running back, who signed a four-year, $43 million contract last year with $21 million guaranteed. Williams had started all but two games since 2008 before this season. He backed up Jonathan Stewart the last two games.
"(Frustrated) with us being 1-6, yes, but I can't call the plays and run them, too," Williams said. "I'm not throwing anybody under the bus, I'm not calling anybody out. I just try to make the best of my opportunity. Every play that we've drawn up is designed to score. And if we don't score on a play that's designed to score, then quite naturally you'll be frustrated."
"I don't know what I did or what I've done to be demoted, but we were talking the other day, and this is the first time that you get demoted and actually get more carries, so I'm actually happy with it. Because I got more carries and more playing time than I would have had I been a starter."
Well, that *is *confusing. Such is life in Carolina these days.