NEW YORK -- "NFL Honors" is getting bigger.
Now in its third year, the league's huge award gala has become a must-attend event for luminaries in town for the Super Bowl. The decision to include the announcement of the incoming Pro Football Hall of Fame class was a no-brainer move that gives the event added relevance.
Marc Sessler and I set up on the red carpet Saturday night and grabbed time with as many big names as we could before they reached their seats at Radio City Music Hall. I also got backstage access during the show.
» The red carpet is the real deal. Players love the chance to get dressed up, bring their wildly attractive lady friends, and live like a Hollywood celebrity for a night. This wasn't The Oscars, but there was a buzz in the air. The event works.
» I spoke to Bengals wide receiver A.J. Green, who told me he believes Andy Dalton can be a top-five quarterback. "Yeah, I think so. I definitely believe that. The body of work he's put together so far is unbelievable. So the sky's the limit for him."
» I got to shake Adrian Peterson's hand. Everything you've heard is true. The man has a handshake like He-Man on PEDs.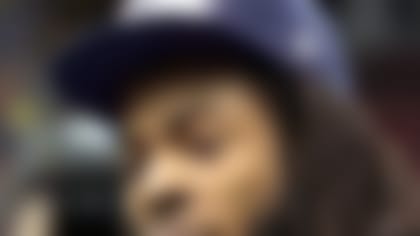 » Had the opportunity to talk with an all-time favorite, Hall of Famer Curtis Martin. The running back said he follows the Jets closely and believes Geno Smith deserves to be in the starting mix next season. "I think he did a pretty good job -- not the best job -- but I think he did get enough to compete for the position next year."
» Before he lost out to Eddie Lacy for Offensive Rookie of the Year honors, Bengals running back Giovani Bernard told me he's fully capable of being a 300-touch back in 2014. Sounds like he thinks the promotion of Hue Jackson will lead to more than the 14 carries a game he averaged as a rookie. "I will say that my running back coach is now the offensive coordinator in coach Jackson. We'll see where that goes."
» The backstage area of an award show is controlled chaos. People running around, panicked looks, full-on sprints. A lot has to go on to ensure the show runs smoothly. Gotta respect it.
» The brunette from the Robin Thicke "Blurred Lines" video (you know, the one) was hanging backstage for a bit. Emmanuelle Chriqui and Kate Mara also were there. I managed to strike up engrossing conversation with all of them. This is a lie.
» I happened upon Michael Strahan and Warren Sapp sharing an extended embrace behind the stage minutes after Strahan was announced as a new Hall of Famer. After a minute of conversation, Sapp bounced away looking for his old teammate (and another new Hall of Famer) Derrick Brooks.
» Overheard: "Joe Namath wants to leave. Do we have a car ready for him?"
»Ryan Tannehill couldn't pinpoint why the Dolphins collapsed in December, but he's excited about a fresh start with new general manager Dennis Hickey. "Well I'm excited the decision has been made. We finally got our guy so we're headed in the right direction at this point. We're not searching anymore."
» As I spoke with Tannehill, Sessler accidentally stepped on Lauren Tannehill's purse. Or at least he says it was an accident. ...