Two years ago, Nnamdi Asomugha became one of the most celebrated free-agent signings in NFL history. Today, he's looking for work.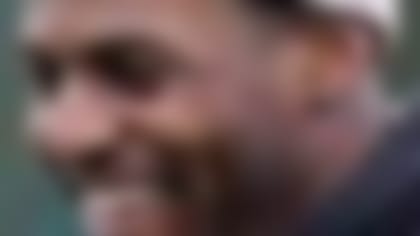 Where will Mike Wallace wind up? Follow him and all the other NFL players on the move in our free-agent tracker. More ...
"I'm very grateful for my time in Philadelphia and I want to thank the Eagles organization for the opportunity to play here," Asomugha said. "It was an honor to play in such a great football city with such a passionate fan base, and I wish my former teammates and coaches the best next season."
Asomugha was scheduled to earn $15 million next season, and that figure made it impossible for the 31-year-old to stick around on new Eagles coach Chip Kelly's revamped defense.
"Coach Kelly and I each had a chance to speak with Nnamdi earlier and he took the news with a lot of class," Eagles general manager Howie Roseman said in a statement released by the team. "We expected nothing less than that from him. He has been a true pro on and off the field for this organization and our community and we wish him all the best as he continues his NFL career. We spoke to his representatives at the (NFL Scouting) Combine about his future status with the team and wanted to take time to analyze and make a decision. In the end, Coach and I both felt we needed to move in a different direction at the cornerback position for 2013 and beyond."
Asomugha -- who'll still cost $4 million against the Eagles' salary cap in 2013 -- had become a symbol of Philadelphia's gaudy and failed post-lockout, free-agent binge in 2011. Asomugha signed a five-year, $60 million contract, and the hope was that he'd give the Eagles a shutdown corner every bit as talented as the New York Jets' Darrelle Revis. What the Eagles got instead was a lackluster cover man who often seemed out of place in a defense that plummeted to 24th in the NFL last season.
It was clear Kelly never planned to keep Asomugha. At the combine, the coach awkwardly described the cornerback as someone who "has the skill set ... that can play football."
Kelly earlier this month refused to comment on Asomugha's future but called him a "classy" individual amid a report the cornerback sequestered himself from teammates to eat lunch alone in his car during practice breaks last season.
There never was a sense in Philadelphia that Asomugha burned to be the best. He never stood out from a leadership perspective and too often struggled in his assignments on the field. Not all of that falls on Asomugha. The Eagles' defense has been screaming for help over the last two seasons, but it became clear early on that Asomugha wasn't going to rescue this team. He was being paid to do that -- and more -- and it makes sense for both sides to walk away.