The trend is sweeping across the NFL; teams are making smarter decisions on fourth down.
On Tuesday, we introduced the Next Gen Stats Decision Guide powered by AWS, a quantitative tool to evaluate fourth-down and two-point conversion decisions. Being right in those situations can spell the difference between winning or losing. And according to our model, teams are increasingly making the right call.
For example, in 2017, on fourth-down plays where the numbers favored going for it by at least 2 percentage points (i.e., when the model makes a strong recommendation), teams went for it just 31 percent of the time. Three seasons later, that number spiked tremendously; 53 percent of teams went for it in similar situations in 2020.
In other words, when the numbers say go, teams are going for it more. When the numbers say punt or kick, teams have typically gotten it right there, too.
So which coaches are making the most optimal fourth-down decisions?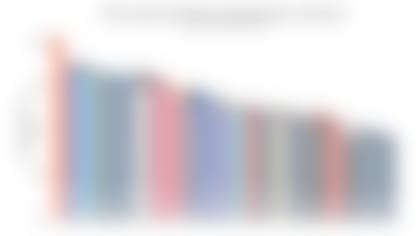 Below are the top five active head coaches according to the percentage of times they've gone for it on strong go for it opportunities (that is, when the value of going for it is at least 2 percentage points), going back over the past three seasons:

Optimal fourth-down decision percentage (2020): 79% (11 of 14 strong go for it opportunities)
Stefanski and the Browns snapped the NFL's longest active playoff drought (17 seasons) in 2020 -- and while we've only seen him make fourth-down decisions for one season, the first-year coach certainly optimized those opportunities. He made the "right call" when the numbers said to go for it in 11 out of 14 decisions, or 79 percent, the second-highest single-season optimal call rate over the last five seasons (topped only by the Packers' Matt LaFleur, who posted a rate of 80 percent last season).
Smart decision-making tends to be driven by a sound process, and few teams have made more visible investments in the process than the Cleveland Browns. In 2016, they hired Paul DePodesta, known for helping Oakland A's general manager Billy Beane drive baseball's analytics revolution (as depicted in the book and film Moneyball), to be their chief strategy officer. Five years later, the Browns employ one of the largest analytics staffs in the NFL.
It is surely no coincidence that over the course of DePodesta's first four seasons (2016-19), all three of the Browns' head coaches (Hue Jackson, interim Gregg Williams and Freddie Kitchens) made the optimal call on over 50 percent of strong go for it opportunities, well above the league average over that span. Stefanski and Co. brought the use of fourth-down analytics to a new level in 2020.

Optimal fourth-down decision percentage (2018-2020): 69% (29 of 42 strong go for it opportunities)
If the title for Most Analytically-Driven Organization was up for debate, Cleveland and Baltimore would sit atop the list. The John Harbaugh-led Ravens have been among the most aggressive teams on fourth down in recent seasons, a trend that correlates strongly with some of their most recent analytics hires, not to mention having dual-threat QB Lamar Jackson piloting the offense in short-yardage situations.
In 2016, the Harbaugh-led Ravens made the optimal decision in strong go for it situations 52 percent of the time. In 2017, that number rose to 58 percent. In 2018, it climbed to 61 percent. In 2019 and 2020, Harbaugh's decision matched the numbers at a 75 percent clip.
The Ravens have invested heavily in analytics in an effort to establish organizational buy-in to data-driven decision-making from the top down. And Harbaugh has had an analyst in the coach's booth feeding him win probabilities for fourth-down decisions for several seasons.

Optimal fourth-down decision percentage (2020): 67% (14 of 21 strong go for it opportunities)
When David Tepper purchased the Panthers in 2018, he emphasized from the start that he wanted to "make sure analytics are applied," in order to exploit every edge available. The following year, the Panthers hired Taylor Rajack from the Philadelphia Eagles as their director of football analytics. Meanwhile, the Panthers' head coach at the time, Ron Rivera, was moving in the right direction on fourth downs. Rivera's Carolina teams made the optimal call at a significantly higher rate in 2018 and 2019 (70 percent in each season) compared to his previous two seasons (42 percent across 2016 and 2017).
In 2020, his first season at the helm, Rhule continued the trend, going for it when the numbers recommended he do so on 14 out of 21 opportunities (67%). An early-game decision in Week 9 against the Chiefs provided a great illustration of the team's approach. With both teams scoreless late in the first quarter, the Panthers faced a fourth-and-3 situation from the Chiefs' 9-yard line. The Next Gen Stats Decision Guide suggested that if they went for it, their chances of winning would be 5 percent higher than if they kicked a field goal (26 percent vs 21 percent). The Panthers went for it, scoring on a 9-yard Teddy Bridgewater touchdown pass to Christian McCaffrey. Yes, Carolina lost -- but only by two points, which is nothing to sneeze at when playing the defending Super Bowl champions and Patrick Mahomes' unstoppable offense.

Optimal fourth-down decision percentage (2019-2020): 64% (16 of 25 strong go for it opportunities)
As mentioned above, in 2020, LaFleur and the Packers recorded the highest optimal fourth-down decision rate (12 of 15, for 80 percent) of any head coach in a single season dating back to 2016. This was a significant increase from LaFleur's mark of 40 percent in 2019. What changed? For starters, between his first and second seasons with the Packers, LaFleur promoted Connor Lewis from offensive quality control coach to game management specialist. Not to mention they had the 2020 MVP (Aaron Rodgers) at quarterback and averaged a league-leading 3.1 points per drive across the season.
Perhaps ironically, Green Bay's 2020 campaign ended with a notable fourth-down controversy in the NFC title game. But that particular decision, it should be noted, was less than a certain go for it situation. The Packers were down 31-23 with less than 3 minutes to play when LaFleur elected to kick a field goal on fourth-and-8 from the Bucs' 8-yard line. Even if they'd scored a touchdown there instead, Green Bay still would have had to convert a 2-point attempt, stop Tom Brady and the Bucs from scoring and then try to win in overtime. Those compounding factors meant winning was improbable at that point no matter what LaFleur decided to do. All that said, per the Next Gen Stats Decision Guide, going for it would have increased their chances of winning by 1.9 percent (8.1% vs 6.2%).

Optimal fourth-down decision percentage (2018-2020): 63% (43 of 68 strong go for it opportunities)
No coach in our dataset has faced as many strong go for it situations as Reich. Over the last three seasons, Reich has been in such situations 11 more times than the next closest coach in that span, according to the Next Gen Stats Decision Guide. And he's risen to the occasion in these situations, going for it at the fifth-highest rate among active head coaches.
Reich and the Colts' analytics staff -- led by John Park and George Li -- work closely, communicating in the days leading up to the game and directly via headset from the coach's booth. This fusion of experience and data-driven processes has led to direct effects on the field. In Week 15 of the 2020 season, for example, Reich's go for it call late against the Texans led to a win that made the difference between making the postseason and missing the playoffs.
Doug Pederson, former Eagles coach
Optimal fourth-down decision percentage (2016-20, with Eagles): 61% (63 of 103 strong go for it opportunities)
We would be remiss not to mention the coach who could be credited with breaking the glass ceiling in regards to fourth-down aggressiveness. The jump we see in the league average rates before 2017 (31%) to the next season (43%) happens to coincide with the Eagles' 2017 Super Bowl run. Pederson stood head-and-shoulders above the rest of the NFL, going for it 15 times on fourth down when strongly recommended over the course of the 2017 season -- that's seven times more than any other coach.