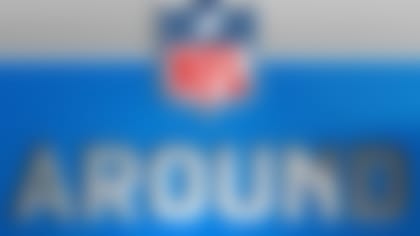 Lions general manager Martin Mayhew told reporters this week that he still sees "a place for the wide-nine" scheme in new defensive coordinator Teryl Austin's system. Caldwell agrees:
"If you've taken a look at us, when we were in Indy, did you see (Dwight) Freeney and (Robert) Mathis?" Caldwell said, per Dave Birkett of the Detroit Free Press. "What'd they line up in? There we go."
With wide-nine disciples Jim Washburn and Kris Kocurek still on the payroll, Caldwell called the approach "necessary" to Detroit's success. He also said Austin won't hesitate to use a variety of looks with his Ndamukong Suh-led defensive front.
The Lions were a productive pass-rushing unit under coach Jim Schwartz in 2010 and 2011, but they haven't reached the quarterback with much success over the past two campaigns. Finishing 28th in the league with 33 sacks last season, an open-minded approach feels overdue in Detroit.
Other nuggets from around the league:
Newly anointed Texans defensive coordinator Romeo Crennel promised that Houston will run a "multiple defense," telling the Houston Chronicle that "you're going to see a little bit of everything" next season. Crennel is a longtime disciple of the 3-4, but he's shown an ability to get creative before. Anyone else remember his "UFO" front in Cleveland?
St. Louis Rams general manager Les Snead told Alex Marvez of SiriusXM NFL Radio that quarterback Sam Bradford has started running on a treadmill after tearing his ACL in late October. Bradford's on schedule to be ready for training camp, and the Rams are on schedule to pay him an outrageous $17.6 million.
Rookie David Bakhtiari held his own this season after Green Bay's starting left tackle Bryan Bulaga tore up his knee. Still, Packers coach Mike McCarthy isn't ready to commit to anyone at the position for 2014. "I don't have an answer for you right now," he told reporters this week, per the Milwaukee Journal Sentinel. Line coach James Campen told the newspaper, "That will be a very competitive situation and a good situation to have."
Bills general manager Doug Whaley told the team's official website on Tuesday that he'd like to sign safety Jairus Byrd to a long-term deal. Byrd -- the league's ninth-best safety, per Pro Football Focus -- played under the franchise tag in 2013 on the heels of a lengthy contract dispute. "Everything we heard is he really ... loves his teammates and I think he likes the defensive scheme that (coordinator Mike) Pettine employs, so all those are positives and hopefully we can use that in our negotiation."
Speaking of Pettine, there's a growing sense that he's about to become the next coach of the Cleveland Browns. After Pettine met with team brass Tuesday evening in Mobile, Ala., NFL Media Insider Ian Rapoport was told by a source that "it's not happening tonight." We'll find out Wednesday if there is a love connection.