The Minnesota Vikings announced Thursday that 2012 Associated Press NFL Most Valuable Player Adrian Peterson underwent surgery to repair an abdominal core muscle injury, otherwise known as a sports hernia.
The injury adds yet another layer to Peterson's legendary performance coming off reconstructive knee surgery. A mainstay on the Vikings' injury report in December, Peterson reached his peak while playing through an abdominal muscle tear. It's an injury that makes it very difficult to maintain effectiveness at the highest level of professional football.
Peterson told Anderson he suffered the tear Nov. 11 against the Detroit Lions, and that he initially didn't realize the extent of the injury. He managed to play in six more games even though the injury "got worse and worse and worse."
"It was mind over matter," Peterson said. "It was just about doing what I had to do to push myself every week. My body was sore from the game and the sports hernia every Monday, so I did what I had to do to recover and get my body right. I just played through the pain. I ran on adrenaline."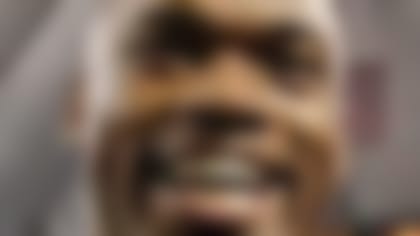 Relive the most unforgettable moments of the entire NFL season with exclusive videos and articles. More...
Still, the pain was intense enough for Peterson to wonder whether he'd be capable of finishing the season.
"Against Houston (in Week 16), that was probably the worse I felt," Peterson said. "That was the first time that I really doubted myself and questioned whether I would be able to continue the season. The pain was a 10 on a scale of 10."
It's remarkable that Peterson managed to accomplish so much over the final part of the season while dealing with such a painful injury. To put the MVP's late-season performance in perspective, Peterson rushed for nearly the same amount of yards (1,598) over the final 10 games as Washington Redskins rookie Alfred Morris did (1,606) over the entire course of the season.
If not for the injury, however, it's highly likely that Peterson would have broken Eric Dickerson's single-season NFL rushing record. Citing the sore abdomen, Peterson passed up a chance to pad his stats in the fourth quarter of the Vikings' Week 16 victory over the Texans.