Draft season is filled with trades that fans wish would happen, but reality is usually a letdown. At least until 2012.
In all, there were nine trades involving first-round picks last year. It will be hard to match that level of movement this season with so many teams looking to move down in a deep draft, but we still expect plenty of action.
Brooks: Planning to perfection
Bucky Brooks puts on his GM hat, laying out the optimal draft-day strategies -- including contingencies -- for all 32 teams. **More ...**
Here are some trades that make so much sense, they probably won't happen.
Trading up five spots would allow San Diego to get their man without having to give up too much.
2. Miami Dolphins acquire Branden Albert for a second-round pick: NFL.com's Ian Rapoport notes that the Dolphins are prepared to pay Albert the going price for an above-average tackle: more than $8 million per season. We're only surprised that people are surprised about this. What did they think Albert was going to cost?
Albert is due nearly $10 million as a franchise player. Jake Long was paid more than $8 million per season by the St. Louis Rams. There's no reason to think Albert would get paid less than Long; he's coming off a better season.
This is a win-now year for Dolphins GM Jeff Ireland. He will probably wait to see how the first round shakes out at tackle, but using a second-round pick on a starting left tackle that would push Jonathan Martin back to the right side makes a lot of sense. **
Norris: Seven-round mock draft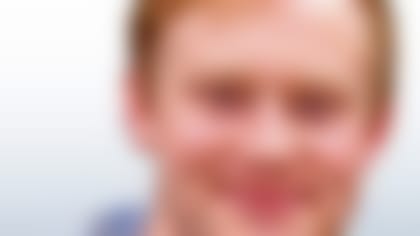 First-round mocks are fun, but they only tell 1/7 of the story. Josh Norris tackles the challenge of predicting all seven rounds. **More ...**
4. New York Jets acquire running back Chris Ivory from New Orleans Saints for fifth-round pick: This one may actually happen. The Jets are not going to do any better with a late-round pick than the powerful, quietly explosive reserve in New Orleans. We're just not sure why the Saints are in such a hurry to trade a player that often looks better than former first-round pick Mark Ingram. **
5. Buffalo Bills trade up with Minnesota at No. 25 to draft Ryan Nassib: There's a growing belief that Buffalo will just take a quarterback with the No. 8 overall pick. That still doesn't make sense for value, but trading back into the first round from No. 41 to Minnesota's No. 25 pick could work.
The Vikings have two first-round picks and seem ready to move. It wouldn't be that shocking if Nassib, not Geno Smith, was the first quarterback taken on Thursday. Perhaps he'll be the only quarterback taken Thursday.