The New York Daily News reported two weeks ago that the New York Jets would cut outside linebacker Calvin Pace and defensive back Eric Smith. On Tuesday, the Jets made it official.
And they threw a couple of other names in, as well.
The Jets announced the releases of Pace, Smith and tackle Jason Smith. They also waived tight end Josh Baker.
Later on Tuesday, the team also announced the release of linebacker Bart Scott. It appears Scott was unwilling to take a big pay cut in order to stay.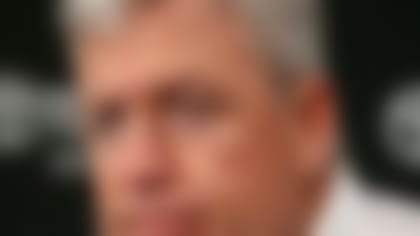 These weren't tough cuts to make. Dropping the five players should save more than $27 million in cap charges for 2013. Pace was actually a nice free-agent signing back in 2008 from the Arizona Cardinals and was an underrated and versatile defender for years in New York. But he could no longer stay healthy and win one-on-one matchups.
Scott's play declined rapidly the last two years. He was symbolic of this Rex Ryan era: very good, but not quite great. He was talented but even more famous.
Jason Smith, the former No. 2 overall pick for the St. Louis Rams, should be able to find another job in the NFL, but it may not be as a starter.
The Jets still have some tough decisions to make, but their cap situation isn't quite as bad as publicly perceived. They don't have much wiggle room, but they should be under the salary cap number now with free agency coming up in less than a month.