Santonio Holmes stood in front of reporters Monday and acknowledged "I can't run," now 10 months removed from his first of two foot surgeries to repair a nasty Lisfranc fracture.
There have been whispers the temperamental wide receiver isn't pushing himself in what's essentially a contract year (the New York Jets won't go near his $10.75 million salary in 2014).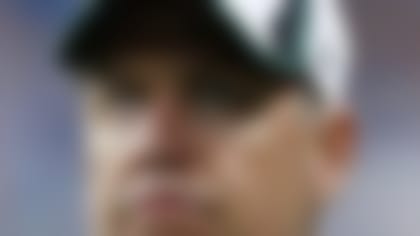 Whoever Rex Ryan and the New York Jets choose to play quarterback, the team's problems run deep, Judy Battista says. **More ...**
Rapoport also has been told that, despite popular opinion, the organization has not decided if Holmes will open the season on the physically unable to perform list. There's optimism that Holmes can turn the corner in his rehab, allowing him to see action in September.
Holmes did make some progress Monday, catching footballs from a JUGS machine for the first time. It's all about baby steps for a receiver who is learning how to walk all over again.