Mike Tannenbaum is on the outside of the NFL looking in after spending 16 years with the New York Jets and the past seven as the team's general manager.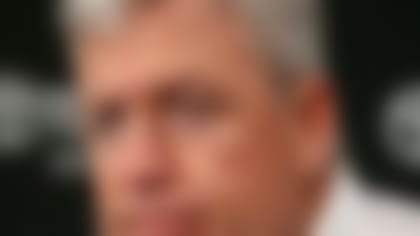 An atrocious season in Florham Park led to an overhaul of the coaching staff and front office. Tannenbaum's dismissal led the list, a move largely tied to the chaos under center, where the misuse of Tim Tebow was only slightly less egregious than the play of starter Mark Sanchez, who morphed into a turnover machine in an offense bereft of weapons.
"I don't think I would have signed a quarterback to an extension knowing that he'd have 26 turnovers," Tannenbaum said Thursday on "NFL AM" when asked about the gaudy deal Sanchez received last March. "That might be one of the reasons I'm right sitting here with you guys. Not that this is not a great place to spend Valentine's Day."
Tannenbaum -- who repeatedly talked about "falling short" in New York -- explained why the Jets re-signed Sanchez to the five-year, $58.25 million deal that now has the team wandering salary-cap purgatory.
"My core belief has always been, let's try to draft as many of our good players as we can -- the core -- and sign them to extensions when it makes sense for both sides. So, D'Brickashaw Ferguson, Darrelle Revis, Nick Mangold. And again, here's a guy that beat Tom Brady in a road playoff game, beat Peyton Manning on the road -- so these are not hopes, these are not projections. These are real wins in the NFL.
"(Sanchez) was a young guy, football's important to him, and we came up with a deal at the time that we thought was good for both sides. Obviously, he didn't play as well this year, we didn't coach as well this year, we didn't get him as good players this year. But if we're sitting here a year or two from now, I still think Mark's going to be a good, credible quarterback in the NFL."
Tannebaum made his share of solid decisions in New York. He mentioned some of the players the Jets drafted en route to a pair of AFC Championship Game appearances during his reign. What's unfurled since -- especially at quarterback -- is one reason why Tannebaum is doing television appearances instead of preparing for the NFL Draft.