Rather than taking questions when he met with reporters Monday, Shanahan took the opportunity to thank the organization, owner Dan Snyder and the players.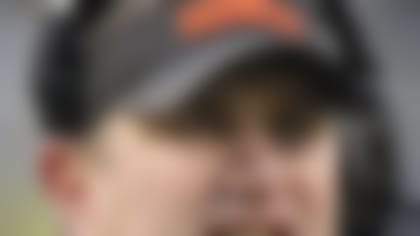 He then asked his own question: Is the organization better today than when he arrived?
In Shanahan's view, it certainly seems so.
The former Redskins executive vice president and coach spent most of his four-minute meeting with the media discussing the salary cap issues he dealt with in his four seasons.
"We were in some tough situations relative to the salary cap," Shanahan said. "When we came in, we knew we had to make some tough decisions. And anytime you release $100 million worth of players, you're talking about a lot of football players.
" ... The thing we felt pretty good about, that not one of those players played a full year the next year. So we did make some good decisions to get to a base relative to the salary cap because we had made some mistakes in the past."
He said he believed the Redskins made some strides, especially with the offense. Shanahan blamed the NFL's $36 million cap penalty for crippling the team's ability to obtain some defensive talent they had targeted in the market.
Shanahan also blamed the cap restrictions for his lack of depth this season. He specifically pointed to the epic struggles on special teams as a result of the team's inability to afford quality depth.
Shanahan feels good about the team moving forward without him, because they won't have those salary cap restrictions.
"The thing I feel good about going into this year is we don't have those problems financially," he said. "You don't have to worry about us not doing things the right way, relative to overspending. I think from now on the problems with the cap are over ... We're in at least a situation that we are better off today than we were four years ago."